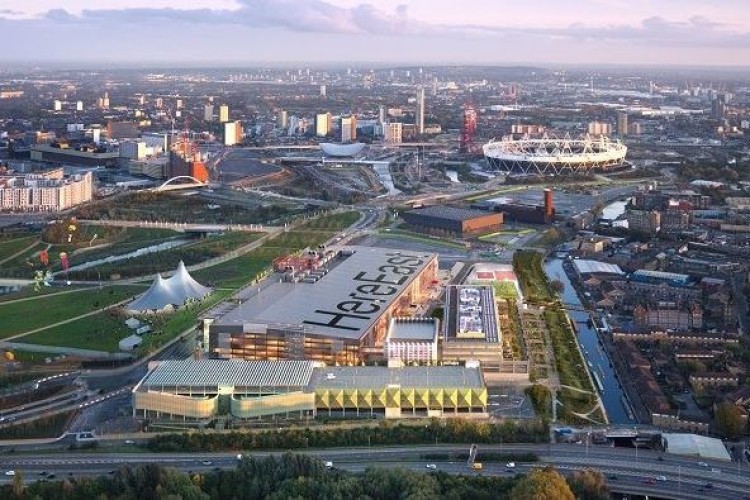 The building, now called Here East, is being converted by main contractor Laing O'Rourke into an office development for businesses in the digital technology sector.
Working alongside Laing O'Rourke, Lakesmere will work on the redevelopment of the existing International Broadcast Centre and will be responsible for the design, manufacture and installation of the building's new unitised glazing system.
Lakesmere will also install perforated aluminium rainscreen cladding, polycarbonate cladding, mesh soffit and fascia cladding, as well as undertaking the legacy works to the former Media Press Centre and Media Conference Room buildings.
The unitised glazing panels will be manufactured and supplied by Lakesmere sister company McMullen Facades, with Lakesmere's special projects team undertaking the design and installation.
Lakesmere will also deliver various other cladding elements, in addition to an internal curtain walling system to the building's atrium, glass and polycarbonate rooflights, ventilation louvres and several large 'hangar' door screens.
Lakesmere was previously the roofing contractor for the London Aquatics Centre on the Olympic Park. It also worked on the Olympic Park Energy Centre and the Media Centre Building and is currently on site helping Balforu Beatty to install a new roof on the Olympic Stadium.
Lakesmere has been on site at the main stadium since May 2014 and, following the removal of the original fabric roof, has begun work on the creation of the new roof that has been specified to feature an acoustically insulated membrane roof and profiled polycarbonate cladding.
Got a story? Email news@theconstructionindex.co.uk