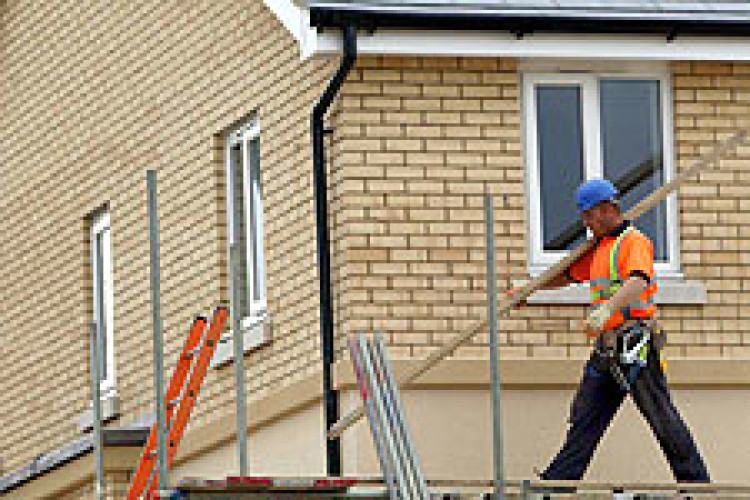 A total of 79 projects across England will share in a £45m pot of Land Release Fund money, designed to pay for infrastructure that makes house-building projects viable.
The 79 schemes are all on council-owned land and collectively plan to deliver 7,280 new-build homes. They were chosen from 143 bids received.
The Land Release Fund, which comes out of the overarching £5bn Housing Infrastructure Fund, is administered through a partnership of the Local Government Association and Cabinet Office's One Public Estate (OPE) programme.
Projects being allocated support in this round include:
A development in Poulton-Le-Fylde, Lancashire, is getting £1.7m to build new roads, roundabouts, and utility services, which will unlock up to 330 homes potentially built with Japanese modular housing techniques.
A project in Worcester is getting £750,000 to demolish a leisure centre and undergo asbestos decontamination works near its city centre, helping to unlock up to 50 homes.
A scheme in Paignton, Devon, is getting £1.9m to support construction of a 350-metre sewer, drainage upgrades and two new roads. This will help unlock up to 200 homes.
The full list of schemes awarded land release
| | | |
| --- | --- | --- |
| Local Authority | Project | LRF Funding (£) |
| Breckland | Shipdham | £300,000 |
| Bexley | West Street | £142,093 |
| Bexley | Walnut tree depot | £250,753 |
| Bexley | Bridge Street Road | £117,018 |
| Bexley | Nags Head Lane - Bexley | £91,943 |
| Blackburn with Darwen | Blackburn with Darwen - Newfield Dev Area | £32,000 |
| Blackburn with Darwen | Blackburn with Darwen - Fishmoor Drive | £35,000 |
| Blackburn with Darwen | Blackburn with Darwen - Griffin | £670,000 |
| Blackpool | Blackpool - Bispham Road | £1,050,000 |
| Blackpool | Blackpool Rd - Poulton | £1,700,000 |
| Blackpool | Blackpool - Ryscar Way | £400,000 |
| Brighton & Hove | Kensington Street | £144,000 |
| Brighton & Hove | Victoria Road | £340,000 |
| Brighton & Hove | Selsfield Drive | £335,000 |
| Bristol | Haldon Close Bristol, BS3 5LW | £220,000 |
| Bristol | 2-20 Filwood Broadway, Bristol | £390,000 |
| Bristol | Kingswear, Knowle West. | £250,000 |
| Bristol | Bath Rd, Totterdown | £270,000 |
| Bristol | Whitehouse Centre, Fulford Rd | £2,680,000 |
| Broadland | Rosebery Road, Great Plumstead | £160,000 |
| Broxtowe | Residential Development Eastwood | £1,000,000 |
| Chelmsford | St Peters (Chelmsford) | £925,000 |
| Chelmsford | Moulsham (Chelsmford) | £125,757 |
| Craven | Phase 1 Small Housing Sites | £662,125 |
| Durham | Former Stanley School of Technology Housing Development | £1,250,000 |
| Durham | Self Build Housing Development | £810,000 |
| East Hampshire | Mill Chase Academy | £1,200,000 |
| Haringey | Pinkham Way | £1,500,000 |
| Hartlepool | Seaton Lane Sites | £205,000 |
| Herefordshire | Bromyard Depot | £225,000 |
| Lambeth | Fenwick South | £825,000 |
| Luton | Taylor Street | £855,545 |
| Maidstone | Brunswick St / Union St | £658,000 |
| Maldon | Friary (Maldon) | £255,735 |
| Mendip | Easthill, Frome | £420,000 |
| Mendip | Cemetery lane, Street | £210,000 |
| Mendip | Norbins Road, Glastonbury | £84,000 |
| Mendip | North Parade, Frome | £112,000 |
| Newcastle on Tyne | NCC Package of sites (Losh Terrace, Manor Park, Wansford Avenue, Newburn Road) | £525,000 |
| North Devon | Seven Brethren, Barnstaple | £2,200,000 |
| Norwich | Mile Cross depot enabling works | £980,000 |
| Plymouth | Colin Campbell House/Colin Campbell Court | £1,000,000 |
| Plymouth | Bath Street West | £1,500,000 |
| Plymouth | Stirling House, Honicknowle | £250,000 |
| Plymouth | Corporate Asset Release Programme | £407,500 |
| Plymouth | Land at Prince Maurice Road, Lipson Allotments | £525,000 |
| Plymouth | Efford Health and Wellbeing Hub | £250,000 |
| Rochford | Rocheway/Millview (Rochford) | £422,110 |
| Rochford | Freight House and RDC Offices (Rochford) | £204,125 |
| Rotherham | Project One: Housing Delivery - Rothwell Grange & Copewell Lodge | £300,000 |
| Rotherham | Project Two: Place Based Transformation | £150,000 |
| Rushcliffe | Depot- Housing  Development - West Bridgford | £300,000 |
| Salford | Salford Development Site, Astley Road | £500,000 |
| Salford | Swinton Transformation, Salford | £110,000 |
| Salford | Little Hulton Residential Development, Longshaw Drive, Salford | £90,000 |
| Scarborough | Depot Rationalisation, Scarborough | £50,000 |
| Shropshire | Ellesmere Remediation | £544,507 |
| South Gloucestershire | Emersons Green Lane, Bristol | £150,000 |
| South Gloucestershire | Station Road, Yate | £230,000 |
| South Gloucestershire | Land at Savages Wood Road, Bradley Stoke | £200,000 |
| South Gloucestershire | Land at Woodlands, Tytherington | £100,000 |
| South Gloucestershire | 32 Gloucester Road/Castle 6th form, Thornbury | £720,000 |
| South Gloucestershire | Charborough Road, Filton | £500,000 |
| South Gloucestershire | Woodend Road, Frampton Cotterell | £175,000 |
| South Gloucestershire | Lower Stone Close, Frampton Cotterell | £20,000 |
| South Gloucestershire | Eastbury Close, Thornbury | £30,000 |
| South Ribble | South Ribble - Bamber Bridge and Lockstock Hall | £362,000 |
| St Edmundsbury | St Olaves Road, Bury St Edmunds | £670,000 |
| Stevenage | Kenilworth Close / Burwell Road and Gresley Way | £900,000 |
| Swindon | John Street Car Park redevelopment | £400,000 |
| Teignbridge | Newton Abbot, Bradley Lane | £2,500,000 |
| Torbay | Victoria Square, Paignton | £900,000 |
| Torbay | Preston Down Road, Paignton | £1,100,000 |
| Torbay | Collaton St Mary, Paignton | £1,976,000 |
| Wiltshire | Land Assembley Next Phase | £700,000 |
| Worcester | Sansome Walk | £750,000 |
| Worcester | The Pines | £180,000 |
| Wychavon | Kingsfield | £150,000 |
| Wycombe | Bassetsbury Allotments | £500,000 |
Got a story? Email news@theconstructionindex.co.uk