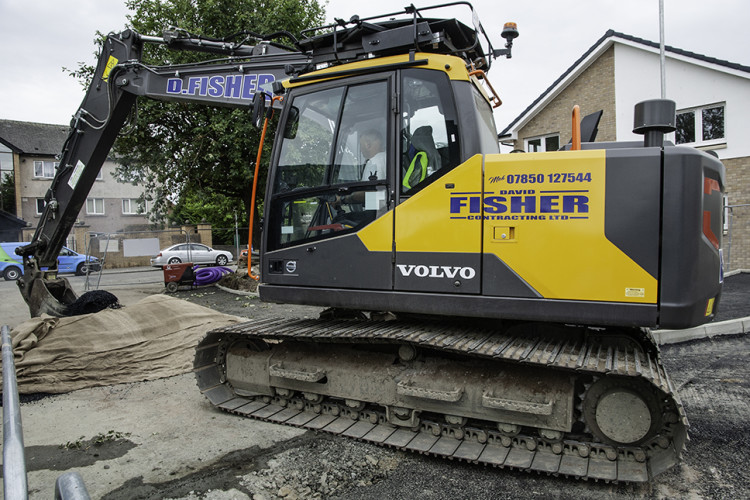 "We've been operating Volvo 14-tonne excavators for quite a long time now and this new E-model replaces an EC140C which, to be perfectly honest, gave us a high level of reliability and operating uptime," said proprietor David Fisher. "We are in the process of replacing a D-series machine for a second EC140E as well. My operators really appreciate the cab comfort and the smoothness and precision of the machines' controls. Our latest EC140E is proving to be very fuel-efficient too, so all-in-all we're pleased with our latest addition."
The new EC140Es will be deployed on all manner of contracting projects undertaken by David Fisher in and around the Central Belt area of Scotland. Typical applications will include general groundworks for housing projects including the laying of sewers and services, footings and general duties on site.

The EC140E is powered by four-cylinder Stage-IV compliant Volvo engine. Features include controlled pump flow for combined digging and swinging operations to reduce the flow loss through the overload relief valves, whilst maintaining digging power and maximum swing torque. When Eco-mode is selected, the machine provides better fuel-efficiency without loss of performance in most operating conditions.
The company has taken out a 'Blue' service agreement with SMT GB, meaning that the new machine will be serviced regularly using genuine Volvo parts carried out by Volvo trained technicians. "I'm impressed with the level of customer support that SMT GB provides as the machines can be monitored at all levels and they notify me when a service is due or if other issues arise," said Fisher. "Having this type of support, with SMT monitoring our situation on a regular basis, certainly reduces the pressure on us."
Got a story? Email news@theconstructionindex.co.uk