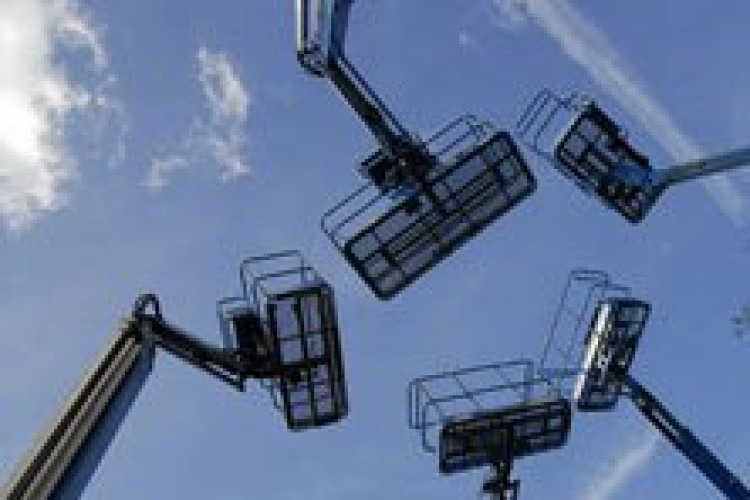 Lavendon's board has approved an offer of 220 pence per share from French rental group Loxam, valuing the company at £374m.
Last month Lavendon rejected a £348m bid from TVH Equipment of Belgium.
Before bidding broke out, Lavendon's share price was 139p.
Loxam is reckoned to be the largest equipment rental company in Europe, with €838m of revenues generated in 2015.
Lavendon specialises in powered access platforms and operates in the UK as Nationwide Platforms. From 70 depots in the UK, mainland Europe and the Middle East, Lavendon manages a fleet of more than 21,000 access platform units.
TVH Group said that it was not yet ready to walk away and is now planning its next move. "TVH is considering its options and urges Lavendon Shareholders to take no action in response to the announcement by Loxam. A further announcement will be made in due course," it said.

Loxam president Gérard Déprez said: "The combination of Lavendon and Loxam represents a unique opportunity to build an unrivalled leader in the European aerial work platforms rental market. Loxam has followed Lavendon for a number of years and has been impressed by its management team and the numerous leadership positions it now holds in several markets.
"The acquisition of Lavendon is consistent with Loxam's strategy to build a geographically diversified business, increase its market shares in countries where the group is already present, and further develop in specialised areas, such as aerial work platforms. The two groups are highly complementary in Europe, and Lavendon's Middle Eastern business will provide the combined entity with opportunities in growing markets.
"The discussions with the board of Lavendon have been very constructive, and Loxam has always had the objective to obtain the full support of Lavendon's board. Loxam is looking forward to working with the Lavendon team and continuing to build a successful business."
Lavendon chairman John Standen said: "Lavendon is a company in robust health, uniquely positioned across diverse geographic markets, with strong revenue growth, cash flow and ROCE [return on capital employed]. In reaching its decision, the Lavendon board has considered in great detail the best interests of all shareholders and the company as a whole. We believe that Loxam's all-cash offer provides Lavendon's shareholders with an opportunity to realise significant value at an attractive premium to the pre-offer period share price, whilst securing early delivery of the Lavendon Group's potential against a backdrop of increased economic uncertainty. This is why the Lavendon directors unanimously intend to recommend Loxam's offer.
"Loxam is the largest equipment rental company in Europe with a strong management team who share our belief in the strengths of our people and our growth drivers. We are confident that they are the right partner to take Lavendon to the next chapter of its growth story."
Got a story? Email news@theconstructionindex.co.uk