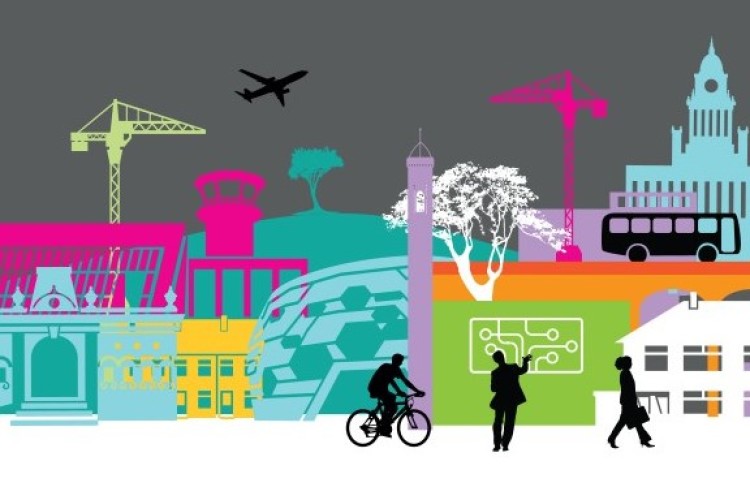 The council has money to spend after scrapping plans for a trolleybus scheme earlier this year.
Leeds' new transport strategy follows a major consultation process that revealed a need for better rail and bus services.
The new parkway station would be built on the existing Leeds to Harrogate railway line. Two other new stations are also proposed at White Rose Shopping Centre and Office Park.
The new stations would be part-funded from the £173.5m of Department of Transport funding secured following the decision not to proceed with the New Generation Transport (NGT) trolleybus in May, with the funds needing to be invested in public transport before the end of 2021.
Support from West Yorkshire Combined Authority and private sector stakeholders increases the funding available to more than £270m for Leeds.
City council leader Judith Blake said: "Through the transport conversation we have been given a clear message that people want improvements to be made to benefit all areas of the city as soon as possible, not in another 10 or 15 years' time but now. I am very pleased to say that everything we are putting forward in this plan is deliverable in the short to medium term.

"Providing a connection by rail to the airport has long been an ambition for the city and this plan will deliver it in a cost-effective way, along with two other new stations at the White Rose Shopping Centre and Thorpe Park to help drive forward job creation, productivity and economic growth. These plans all fit with the Department of Transport request that we invest the £173.5m in public transport improvements before the end of 2021, and I am delighted that together with additional funding proposed by stakeholders and private partners we can now do even more to improve transport in our city and make a real difference."
The council said that it would continue to consider options for a mass transit scheme for Leeds, but this would not be deliverable by 2021.
Councillor Blake added: "Options for a mass transit scheme are still very much under consideration, but it needs to be right for the whole city and the reality is such a scheme would need a lot more investment and would take a lot longer to deliver, whereas there is a clear priority need to deliver changes now in order to get Leeds moving."
Leeds Bradford Airport chief executive John Parkin said: "This announcement is fantastic news for the millions of passengers who travel to and from Leeds Bradford Airport each year. As one of the country's fastest growing regional airports, it is vital that we give passengers more choice about how they are able to get here. Investing in the public transport network in this way will enable people to travel to and from the airport easily, as well as create jobs and help to ease road congestion in the area."
Other improvements proposed for the rail network in Leeds would see access enhanced at Cross Gates, Morley and Horsforth stations and car park expansion at New Pudsey to increase its park and ride capacity.
The transport plan will be considered by the council's executive board on 14th December and if approved will then go be submitted to the Department of Transport for approval.
Got a story? Email news@theconstructionindex.co.uk