Hyperloop One is a privately-held company on a mission "to reinvent transportation to eliminate the barriers of time and distance and unlock vast economic opportunities" using a combination of linear electric motors, maglev and vacuum pumps to achieve speeds of up to 700 mph.
A test track, DevLoop, has been built in the Nevada desert, combining the pod, tube, vacuum, levitation, propulsion, and braking. In May 2017, the first full system, self-powered Hyperloop test was completed. The goal is to have three systems in service as early as 2021 that validate the company's ability to design, finance and build a safe, revolutionary transportation technology that scales.
Partner companies include Parsons, Arup, DP World, Aecom, Ramboll, McKinsey, KPMG, FS Links, Systra, BIG, SNCF, GE, Deutsche Bahn and PA Consulting.
The Hyperloop One Global Challenge launched in May 2016 with a call for proposals to build Hyperloop networks connecting cities and regions around the world. More than 2,600 teams registered, from which a shortlist of 35 was drawn up.
The 10 winners have now been chosen, and two are in the UK:
Team: HypED

HypEd is an initiative of Edinburgh University. Its Edinburgh-London Hyperloop passenger system would run through London, Birmingham, Manchester, and Edinburgh, forming a spine of a national Hyperloop network. The proposal aims to reduce the country's socioeconomic inequalities and rebalance growth in the region.
    Edinburgh - London: 666 km, 50 min
    Edinburgh - Manchester: 330 km, 24 min
    Manchester - Birmingham: 143 km, 12 min
    Birmingham - London: 193 km, 14 min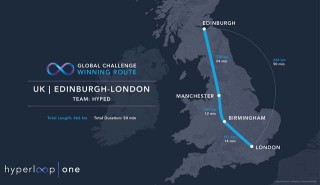 Team: Northern Arc
The Northern Arc team is led by led by Ryder Architecture and Arup, supported by KPMG. Its UK Glasgow-Liverpool proposal aims to bridge the gap between the M62 Corridor and the Scottish Central Belt, with Newcastle as the nexus. The corridor could become a major international gateway and enhance passenger and freight flows in the eastern United Kingdom. It would create a pan-Northern City region, with a population in excess of 10 million people
    Glasgow - Liverpool: 545 km, 47 min
    Glasgow - Edinburgh: 68 km, 7 min
    Edinburgh - Newcastle: 193 km, 14 min
    Newcastle - Leeds: 158 km, 13 min
    Leeds - Manchester: 71 km, 7 min
    Manchester - Liverpool: 55 km, 6 min
Ryder partner Paul Bell said:  "We are hugely excited to be selected to collaborate with Hyperloop One on this transformational proposal. Hyperloop One are progressing the proof of concept work in Nevada at an incredible pace. The north gave the world railway technology and we are passionate about making sure the north is at the forefront of the next generation of transport innovation, developing skills, expertise and system components that will be exported around the world."
Got a story? Email news@theconstructionindex.co.uk