The two organisations, along with the Letchworth Garden City Heritage Foundation, are transforming a 1920s semi-detached home into a blueprint for making older properties more energy efficient.
The home in Letchworth, owned by the Heritage Foundation, is getting a complete retrofit to improve insulation and thermal performance. It will then be monitored for 12 months to check the difference in energy use and determine how much people living in older properties could save in household energy costs.
The results are expected to inform thinking on the rationale for investment in retrofit projects on heritage and older properties by providing evidence of energy savings.
Willmott Dixon undertook the design and is managing the project, which will balance improving the property's energy efficiency with protecting its external characteristics.
A number of suppliers are sponsoring the work, which includes installing Pavadry wood fibre internal wall insulation, new windows, solar PV panels, a waste water heat recovery system and a demand controlled ventilation system from Aereco.
Prior to work starting, BRE assessed the house to model its baseline energy performance and gathered energy use data from typical homes in the area. Performance specification options were then developed for the Heritage Foundation in line with current government regulations for new homes and more ambitious carbon/energy reduction targets.

Once complete, BRE will carry out monitoring to analyse energy use and internal conditions, the performance of various design features and the experience of the property's residents. Another similar property, without modifications, is being used as a comparison.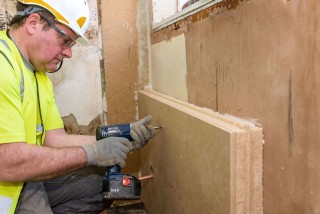 Willmott Dixon Re-Thinking's Rob Lambe said: "With over a quarter of the UK's total carbon emissions coming from our homes and a fifth of households living in fuel poverty, it's really important to ensure domestic properties are as energy efficient as possible. With a large number of older and heritage properties in the UK, there is a particular need to explore a range of options that will help people to keep warm and save energy while protecting the characteristics of these buildings.
"This project not only enables us to learn more about installing the right solutions for heritage homes but provides us with a unique opportunity to develop research that will help underpin similar projects in the future."
David Ames, head of heritage and strategic planning at Letchworth Garden City Heritage Foundation, said: "As part of our commitment to sustainability we are aware of some of the issues arising from living in early Garden City solid wall homes. Initially working with the BRE, we undertook a local community engagement exercise to understand these issues in detail. We wanted to learn more about how these homes could be made more energy efficient, maximising the performance of the building fabric itself and taking a holistic view of the impact of the changes. We are also glad to be working with Willmott Dixon and our partners on this project, and we are looking forward to seeing the finished project and inviting the local community to the opening, where we can show other residents what can be achieved."
BRE project manager Steven Stenlund said: "The aim of this project has been to plug the knowledge gaps on how best to make heritage homes like these more energy efficient without compromising on their unique character. The learning derived from the demonstrator home will benefit local homeowners and will have broader national applications as we continue to drive down the energy use and carbon emissions from existing homes."
Got a story? Email news@theconstructionindex.co.uk