The Levelling Up white paper* sets out "the 12 missions to level up the UK" by 2030, ranging from higher pay and better public transport to less crime.
It includes a commitment to improving education standards and access to 5G broadband, and to improving the health of the nation and increasing average life expectancy.
They are presented as government aspirations rather than party manifesto commitments.
The policy content aggregates existing government policies into a single document, such as the £1.5bn levelling up home building fund to provide loans to SME developers.
The Department for Business, Energy & Industrial Strategy (BEIS) has committed to invest at least 55% of its domestic R&D funding outside of the southeast by 2024/5.
To promote devolution, regions that want their own mayor with special powers, like Andy Burnham in Greater Manchester or Andy Street in the West Midlands, will be able to have them. The first nine areas invited to begin negotiations for these so-called 'mayoral combined authorities' will be: Cornwall; Derbyshire & Derby; Devon, Plymouth & Torbay; Durham; Hull & East Yorkshire; Leicestershire; Norfolk; Nottinghamshire & Nottingham; and Suffolk.
Prime minister Boris Johnson said: "From day one, the defining mission of this government has been to level up this country, to break the link between geography and destiny so that no matter where you live you have access to the same opportunities. The challenges we face have been embedded over generations and cannot be dug out overnight, but this white paper is the next crucial step.
"It is a vision for the future that will see public spending on R&D increased in every part of the country; transport connectivity improving; faster broadband in every community; life expectancies rising; violent crime falling; schools improving; and private sector investment being unleashed. It is the most comprehensive, ambitious plan of its kind that this country has ever seen and it will ensure that the government continues to rise to the challenge and deliver for the people of the UK."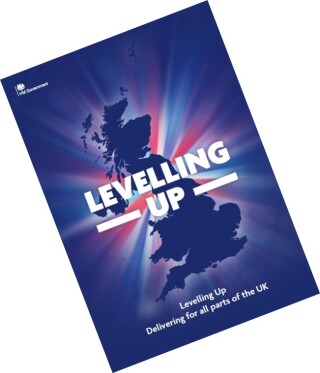 'Levelling up' secretary Michael Gove said: "For decades, too many communities have been overlooked and undervalued. As some areas have flourished, others have been left in a cycle of decline. The UK has been like a jet firing on only one engine.

"Levelling up and this white paper is about ending this historic injustice and calling time on the postcode lottery. This will not be an easy task, and it won't happen overnight, but our 12 new national levelling up missions will drive real change in towns and cities across the UK, so that where you live will no longer determine how far you can go."
Shadow secretary of state Lisa Nandy said: "For all the slogans, when it comes to delivering all we get is a government out of ideas and out of energy. We deserve so much more ambition than this."
A report from the National Audit Office yesterday** said that the government has a poor record of measuring what works when it comes to local economic growth. The NAO found that government policies to stimulate local economic growth "are not consistently based on evidence of what interventions are likely to be most effective, increasing the risk that billions of pounds awarded to local bodies will not deliver the intended benefits".
It said that as of November 2021, central government had committed £11bn through policies to support the regeneration of towns and communities across the UK between 2020-21 and 2025-26, including £4.8bn for the Levelling Up Fund, £2.6 billion for the UK Shared Prosperity Fund and £3.2bn for the Towns Fund.
It said that the Department for Levelling Up, Housing and Communities (DLUHC) "has a limited understanding of what has worked well in previous local growth programmes due to a lack of consistent evaluation or monitoring. By failing to conduct evaluations, DLUHC has wasted opportunities to learn lessons to inform future interventions, and it does not know whether previous policies achieved their aims."
It added: "DLUHC has received expert advice that major physical regeneration could significantly improve local economic outcomes, but the smaller-scale infrastructure investments it is funding through the Levelling Up Fund do not usually drive significant growth. DLUHC says it has intentionally designed the Levelling Up Fund to allow investment in small-scale infrastructure that improves everyday life as well as to support recovery and that major physical regeneration is largely funded through other routes."
Or as Meg Hillier, the chair of the House of Commons public accounts committee, put it: "Government has simply turned on the taps without really knowing where to direct the hose."
* Levelling Up the United Kingdom is available at www.gov.uk
** Supporting local economic growth, report by the National Audit Office
Got a story? Email news@theconstructionindex.co.uk