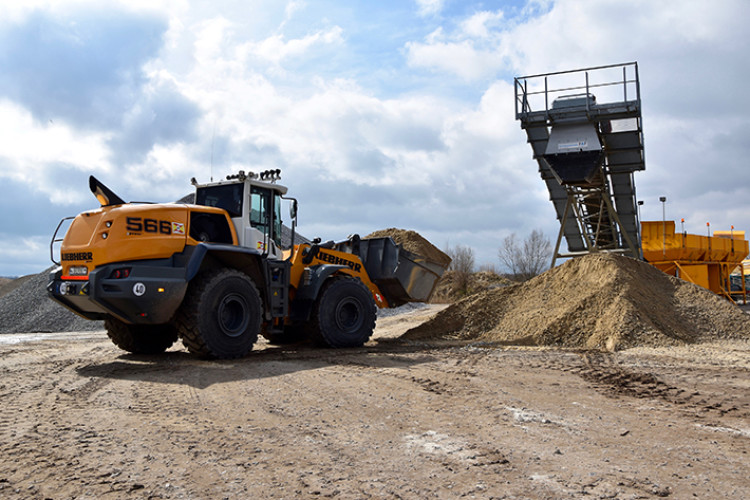 Before buying the new models, RBS Kiesgewinnung had tested a prototype from the range for more than 5,500 hours. "During more than 5,500 hours of testing, we did not experience a single failure", said owner and managing director Andreas Buhk.
Representatives of Liebherr-Werk Bischofshofen and the Hamburg branch of Liebherr-Baumaschinen Vertriebs- und Service personally handed over the new wheel loaders, which are being used for the loading of sand and gravel.
RBS Kiesgewinnung's sand and gravel plant in Hamburg, Germany, operates under wet conditions. A suction dredger extracts the sand and gravel mixture from the lake and wheel loaders then transport it to heaps for interim storage. This task will now be taken over by the new L 566 XPower. Each Liebherr wheel loader deployed deals with more than 3,000 tonnes of sand and gravel per day.


At the plant, the wheel loaders cover long driving distances. This is where the advantages of the emission Stage IV / Tier 4f compliant power-split Liebherr XPower driveline come into effect, said Liebherr. The power-split driveline combines a hydrostatic drive, designed for short loading cycles, with a mechanical drive, which comes into its own on long routes and uphill. "Even under the tough conditions in our sand and gravel plant, our new XPower wheel loaders use up to 30 per cent less fuel per operating hour at full capacity than the previous model," said Buhk.
The wheel loaders are in operation for 240 days per year, 12 hours per day. Liebherr has reinforced the Z-bar linkage and optimised the lever ratio to increase productivity during operation. As a result, the revised Z-bar linkage delivers up to 20 per cent more break-out force compared to the previous generation. Alongside the lift arm improvements, Liebherr has also revised the bucket design. The optimised buckets are designed to allow for faster and more efficient loading.
The high loading capacity of the L 566 XPower is also enhanced by the positioning of the components, said the manufacturer. Liebherr installs heavy components, such as the motor, at the very rear of the machine. This moves the centre of gravity to the back of the wheel loader; the use of additional counterweights becomes unnecessary. 
Got a story? Email news@theconstructionindex.co.uk