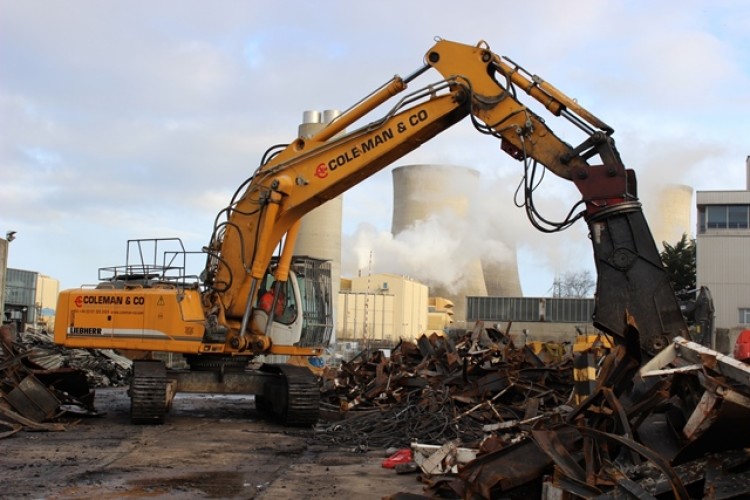 Birmingham-based Coleman & Co has started a three-year project to pull down the redundant Didcot A plant in Oxfordshire. The project involves the demolition of a wide variety of structures ranging from single storey office blocks through to the main plant to include the boilers, turbine hall, six cooling towers and a 200m high chimney.
The deal comprises three 56-tonne R956 excavators, two 80-tonne R954CVH HDW high reach excavators and a special 120-tonne R974C all of which have been prepared especially for working in the industrial demolition sector.
The Coleman project management team drew up their initial requirements for new equipment in September 2013 and after talking to four manufacturers, entered into more detailed discussions in April 2014 with Liebherr.
"We run a fairly mixed fleet of demolition specified excavators across four recognised brands including Liebherr," said managing director Mark Coleman.  "But the only manufacturer we talked to that were able to meet all our detailed demands were Liebherr."
The detailed specification drawn up by Coleman & Co required Liebherr to design a variety of specialist demolition rigs with an array of interchangeable options across the six machines. Work tools are supplied by ECY Haulmark with the flow rates for the specific attachments set up and tested in the Liebherr factory.


"Liebherr has been able to design a variety of boom configurations for Coleman's requirements to include a variety of different extensions and high reach options which will enable them to obtain the maximum availability out of the new fleet." said Liebherr accounts manager Darren Bennet. "We and Coleman believe that between us we have developed a unique 'Swiss army knife' range of demolition excavators."
 "We liked the fact that the Liebherr machines are fully designed and constructed in-house," said Mr Coleman "This means they are fully CE certified and should we have any issues with them, we have a single point of contact with no other outside influence."
The six machines will be delivered throughout 2014 with the first R956 being displayed on the Liebherr stand at the Hillhead exhibition (24-26 June) and going to work immediately afterwards.
Pictured below is a Liebherr 944 working inside the turbine hall at Didcot A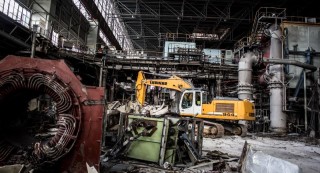 Got a story? Email news@theconstructionindex.co.uk