Liebherr says that its new lattice boom LR 1500 crawler crane has the lifting power of a 500-tonner but the dimensions and weight of a 400-tonne class crane.
The design was driven by a desire to produce a machine that customers can strip down for transport easily, with no component weighing more than 45 tonnes.
Main boom is 84 metres long, to which an 84-metre luffing jib can be added.
The lattice boom system also has a new design, with fewer parts to make transport and erection simpler. The lengths of the boom sections are six and 12 metres. The guide frame for the derrick ballast has been completely omitted from the design. The ballast radius is adjusted simply using the derrick boom.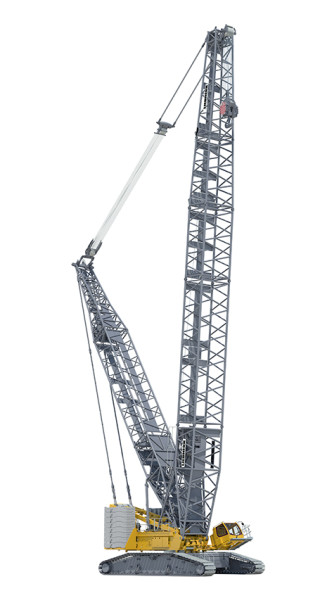 Also new from Liebherr is the LTM 1250-5.1 (below), which it describes as "the most powerful five-axle mobile crane in the world".
It replaces the LTM 1220-5.2 in the Liebherr all terrain line up and lifts 15 to 20% more. The telescopic boom has remained at the same length of 60 metres. With lattice extensions the maximum hook height has been increased by 9 metres to 110 metres.
This is the third crane model on which Liebherr uses its single-engine concept. The superstructure is powered by a mechanical shaft. Gear shafts are routed from the distributor gear in the substructure via two mitre gears through the centre of the slewing ring to the pump distributor gear in the superstructure. A mechanical shaft ensures particularly high efficiency levels and low engine speeds in the chassis engine, Liebherr claims, providing sufficient power for crane work. This ensures the economy of the new concept in terms of fuel consumption. The benefits of not having a separate superstructure engine include reduced maintenance work and lower weight. The lower weight can be used for load-bearing components, thus increasing the crane's load capacity.
Got a story? Email news@theconstructionindex.co.uk