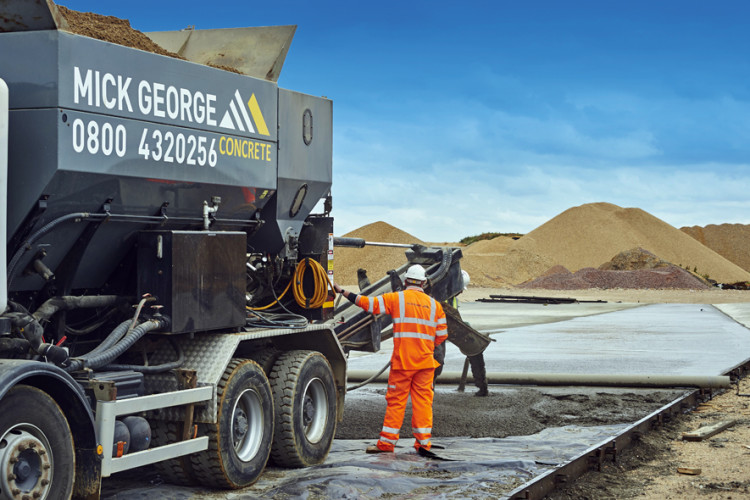 If you live and work way out west, or way up north, you've probably never heard of Mick George. But if you live in East Anglia you'll definitely know the name; because everybody within an hour's drive of Huntingdon has heard of Mick George.
The firm's blue-and-yellow liveried vehicles are a common site on roads throughout the region, delivering sand and gravel, carrying muckaway, collecting demolition waste for recycling and delivering ready-mixed concrete.
Machines from its earthmoving fleet are commonly found on local construction sites, including the busy A14 improvement and other major road projects.
And it's not just the construction industry that enjoys the services of Mick George. Local residents and businesses have their refuse collected in Mick George wheelie-bins and disposed of in a number of landfill sites dotted around the region. If you want to hire a skip in East Anglia, you invariably type 'Mick George Skips' into your search engine.
Some local businesses lease their cars from Mick George. Some have their phone and broadband connections hosted by Mick George. DIYers and small builders can often source competitively-priced local materials and tools from Mick George's retail website instead of going to one of the big merchant chains.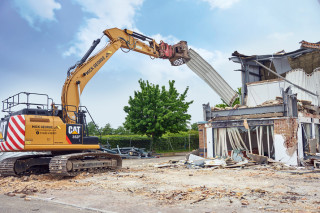 Even if you don't avail yourself of any of Mick George's myriad products and services, you'll have seen the name prominently displayed if you've been to watch Peterborough United, Cambridge United or Northampton FC play at home. They're all sponsored by Mick George, as are several much smaller community sports clubs.
And if you don't like sport? Well, if you read the local paper, listen to local radio or watch ITV Anglia television, you'll have seen or heard the ads. Mick George is literally everywhere – except that he's not, once you get outside East Anglia.
So who on earth is Mick George?
Mick George is the archetypal small business man who started, like so many natural-born entrepreneurs, from humble beginnings and grew a successful business empire by grasping every opportunity that presented itself.
When he left school to start training as a tyre-fitter, his sole ambition was merely to drive the trucks he worked on.
He got his HGV licence aged 21, and in the mid-1970s found work driving tipper trucks on the new M11 motorway, then under construction. But from the outset George wanted to be his own boss and in 1978 he set up business as an owner-driver with his own tipper lorry.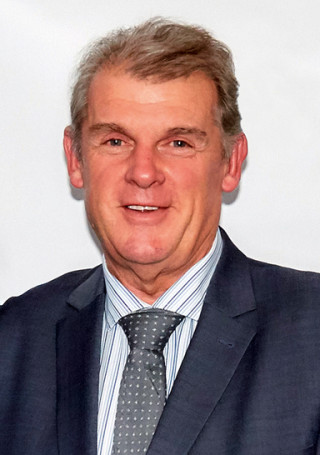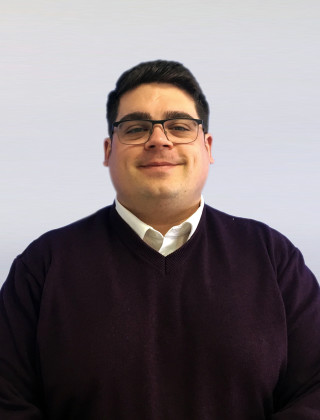 George started out hauling demolition waste and bulk excavation material, and one thing very quickly led to another – which you could say is the Mick George story in a nutshell. His work included hauling excavated material from new landfill sites and from that he found extra work carrying waste to them for disposal. Soon he was buying more trucks and employing drivers.
Bulk waste is one thing; there's also money to be made in hiring skips, so George set up a skip-hire business to complement the bulk haulage.
Every time Mick George established himself in one niche, he noticed another niche opening up alongside. So the logical extension of waste disposal activities is of course to operate your own landfill site. This he duly did.
Developing new landfill sites requires earth to be moved; rather than hire in an earthmoving specialist, Mick George bought his own machines. Suddenly he was an earthmoving contractor. And a plant hirer.
This is how Mick George mushroomed. By expanding outwards, constantly exploring new opportunities, the company quickly established a presence in numerous distinct industry sectors.
Mick George's name and reputation spread rapidly but the man himself is surprisingly diffident and he avoids personal publicity. He seldom gives interviews to the media, preferring to delegate this role to his finance director, Jon Stump who, for all practical purposes, is the public face of the company. Stump is also, to a large extent, personally responsible for accelerating the company's rate of growth.
"From shifting muck to excavating sites, to digging holes to extracting sand and gravel…that's the story of this business; it's our core activity," says Stump. "One activity leads to an opportunity in a new but related area," he adds. New enterprises are not chosen at random but are always complementary to existing activities.
"Mick basically ran the business single-handed for the first 20 years," explains Stump. "He's been there, hands-on, and done every job you could think of. But it reached a stage where he needed help to manage the rate of growth. And he didn't want to end up sitting behind a desk doing paperwork all the time."
George first enlisted the help of Jon Stump around 18 years ago when Stump was a partner with an accountancy practice in Bedford. Stump had worked for clients in a variety of industries, from IT, through petrochemicals to timber importing and a lot of his work involved acting on a freelance basis as a de facto finance director for fast-growing firms.
It was in this capacity that Mick George engaged Stump to help plan the future development of the business.
"We immediately hit it off," says Stump, who found that he shared Mick George's knack of seeing a new business opportunity round every corner. Before long, George had persuaded Stump to leave the accountancy practice and join him full time as finance director.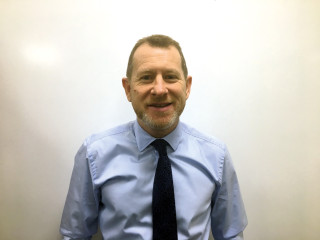 Poaching promising talent is another signature feature of the Mick George modus operandi: "Mick's a delegator," comments Stump. "He needs to recruit people he can trust."
Group turnover at this time was around £6m and the business was focused heavily on muckshifting and stone. George had briefly dabbled in concrete – a spin-off from the sand and gravel side of the business – but had disposed of this by the time Stump arrived on the scene.
Mick George's business model is decidedly unconventional. Most small businesses that are bent on rapid growth tend to choose a niche, an area of expertise in which to build a reputation and establish a strong presence. Conventional wisdom is that it's better to concentrate on what you do best; to be a specialist rather than a 'jack of all trades and master of none'. But that's not how Mick George sees it.
The Mick George way involves maximising its control of the supply chain – ideally from cradle to grave. Rather than enlist the services of a specialist supplier or contractor, Mick George will first explore the pros and cons of undertaking that specialism itself.
In 2002, shortly after Stump had joined the business, Aggregate Industries acquired the mineral rights to a site at Mepal, a village between Ely and Peterborough. Mick George secured the contract to haul the aggregate. And then it negotiated the purchase of the resulting hole in the ground for use as landfill. Mepal today is one of Mick George's biggest waste transfer stations.
After 10 years, Aggregate Industries closed its concrete batching plant at Mepal and moved out. "So we decided to take it on and get back into concrete," says Stump. "We poached their staff, built our own batching plant on the site, and started producing ready-mixed concrete again in 2013."
Waste and recycling has always been a central plank of the Mick George business model. Its thriving skip-hire business provided a way into the domestic refuse sector and in 2008 the company acquired its first 'black-bag' landfill site at Rushton, between Kettering and Corby, from waste specialist CSG.

"CSG didn't realise the value of what they had," declares Stump with evident glee. "The ground had limestone in it." CSG had sold Mick George a landfill site and thrown a limestone quarry in for free.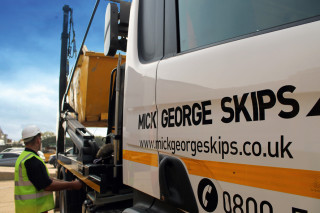 Unlike just about any other waste processor, Mick George could exploit this resource thanks to its large earthmoving fleet. And it was this capability that also enabled the firm to branch out into civil engineering contracting and demolition (which of course fits in neatly with the recycling and aggregates business).
With its expertise in the waste disposal sector and a burgeoning workload as a demolition contractor, Mick George would have been remiss to overlook the opportunity to get into asbestos removal. "Mick George Environmental is currently the only asbestos removal contractor in the UK that has its own asbestos landfill facility," says Stump.
In 2015 the company was growing rapidly and needed more office space. It found the ideal building on the Ermine Business Park in Huntingdon and, having bought it, had it stripped back to the bare structure and remodelled inside.
George was deeply impressed by the company that did the fit-out – or more accurately, he was impressed by the project manager, Wayne Penfold. So he offered Penfold a job: setting up and running Mick George's new fit-out division. Penfold now oversees M&E and facilities management services provided to clients as diverse as Perkins Engines and Ely Cathedral.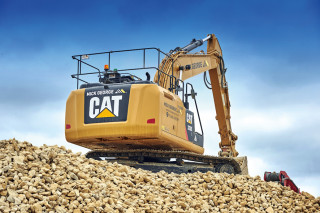 A couple of years ago Mick George decided it needed to streamline the skip-hire business. "We put it all online because we could see it was a much more efficient way of interacting with our customers," says Stump. "It was an instant success."
The skip-hire business had a substantial customer base who, in addition to skips, Stump reckoned, would probably be in the market for building materials, tools and ancillary products as well – the sort of products sold online by big national retailers like Screwfix. Stump realised that it was a relatively simple, cost-neutral, matter for Mick George to offer its new online selling platform to local materials suppliers and hardware retailers to create a truly local retail alternative.
"I was amazed how rapidly it caught on," confesses Stump. But, he adds, "We're not looking for a big return from these small businesses; they are useful because they help to bring in customers for the core business."
Stump describes Mick George's strategy as a 'multi-role model':
"We are active in a lot of different sectors but crucially all with exactly the same customer-base. The idea is that there are lots of entry points for our customers. They come to us for one product or service and once they're in we can cross-sell to them."
The Mick George way of doing things means that the firm is in competition with a great many other businesses, a lot of them large national concerns. But at the same time, Mick George is not threatened by any of its rivals because not one of them is active in all the sectors in which Mick George operates.
"We spread the risk which makes us more resilient," explains Stump, citing the company's trading record over the past decade as proof. The business turned over £12m in 2008 (just as the recession started to bite) and set itself a revenue target of £30m by 2012. "We sustained growth throughout the worldwide recession and in 2012 our turnover hit £31.5m," declares Stump.
"We were investing in plant and equipment throughout the recession and we were in the Sunday Times Fast-Track 100 two years in a row," he adds.
The company shows no signs of wanting to slow down and continues to seek new opportunities to diversify, most recently branching out into house-building, as contracts director Michael George (son of the founder) explains:
"We'd been wanting to get into house-building for some time; we were already in land acquisition, so it was a logical step. Unlike other house-builders though, we're not scared of contaminated sites because we've been working with them for years."
So in time-honoured style, Mick George set about poaching a senior executive from a local prestige house-builder, St Ives-based Campbell Buchanan. "But they didn't want to let him go, so we started negotiating," says George. The outcome was a house-building joint venture, Markham & George Property, set up to build Mick George Homes.
Markham & George Property will develop sites that other house-builders steer clear of – because Mick George has the expertise and resources in land remediation to make the sites economical.
The deal was struck in December 2017 and the first show-home was opened in February. It has since been sold.
But while Mick George continues on its quest for growth and diversification, don't expect to see a depot spring up in your neck of the woods unless, that is, you live in East Anglia or the east Midlands..
"We set out our stall a long time ago: we're a local company and we are going to stay local," says Jon Stump. "We can take a long-term view and our priority is to build a secure, sustainable platform. We think it's better to expand the range of services we offer than to expand geographically."
Care for the community
One of Mick George's principal strengths is its brand image within the community it serves. "When I joined the company, one of the first things I said to Mick was that we had to build the brand," says finance director Jon Stump.
Marketing received a boost with the appointment in 2005 of Stuart Costello, a marketing professional with a background in the insurance and property markets. Costello set about strengthening the brand's local image, establishing a new corporate identity and introducing strict brand guidelines. "We pretty much overhauled everything," he says.
Sponsorship of local sports clubs and advertisements in the local media helped raise its profile, but George himself wanted a more hands-on involvement with local residents.
A fine example of enlightened self-interest is the recent launch of the Mick George Ideas Factory, an initiative that invites aspiring local entrepreneurs to pitch their business ideas which, if accepted, Mick George will then support, Dragons' Den-style.
It was through the Ideas Factory that Mick George launched its new telecommunications hosting service, Mick George Telecoms.
The firm has since extended the concept and, in partnership with Longsands Academy, a secondary school in St Neots, recently launched the Junior Ideas Factory.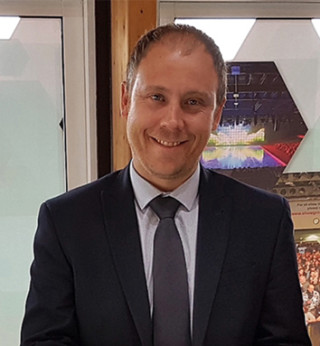 This article was first published in the March 2018 issue of The Construction Index magazine, which you can read for free at http://epublishing.theconstructionindex.co.uk/magazine/march2018/
UK readers can have their own copy of the magazine, in real paper, posted through their letterbox each month by taking out an annual subscription for just £50 a year. See www.theconstructionindex.co.uk/magazine for details.
Got a story? Email news@theconstructionindex.co.uk