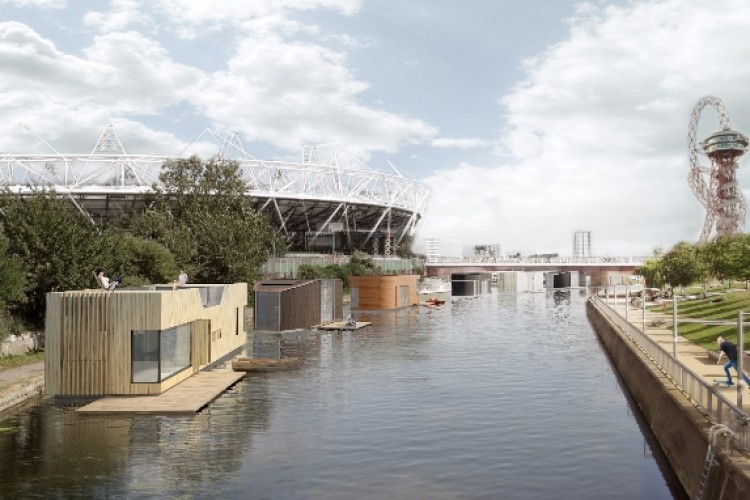 The fruits of an international ideas competition, organised in collaboration with the Mayor of London, are going on show at The Building Centre for two months from 15th October 2015.
The competition attracted more than 200 entries from 16 countries around the world. Of these, 100 will be on display.
Ten winning ideas will then be selected by a jury and their creators invited to join a Greater London Authority working group to examine how their ideas can be applied to real London sites to deliver future housing for the capital.
Among the submissions, a recurring theme was the redevelopment of London's suburbs. Alastair Parvin and Adam Towle in partnership with the WikiHouse Foundation propose the introduction of a 'right to replace', giving homeowners the right to demolish their properties in the suburbs to build their dream home but only if they use half the space, freeing up space for an extra residence.
More ambitious proposals include transformations of the outer London region, such as property consultants GL Hearn's idea for a mega-city near the M25, supplying a vast number of new homes as well as new workspaces, retail, public realm and infrastructure links.
Making better use of London's waterways is another strong theme. Baca Architects proposes 7,500 fixed-placed floating homes on the city's canal network. Architecture studio dRMM has a scheme called Floatopolis, to transform London's docks and sites on the River Thames into water neighbourhoods.

Farrells and Buro Happold propose low-level bridges across east London to facilitate the development of 50,000. Only one of London's 34 bridges is to the east of Tower Bridge. New bridges to the east would encourage investment in areas that are currently overlooked, the architects say.
Other entries explore infilling unused land, with ideas ranging from brownfield sites to repurposing rooftops. WSP Parsons Brinckerhoff's research into delivering housing on top of existing public buildings such as hospitals, schools and libraries suggests that 630,000 new homes could be delivered this way. Bell Phillips Architects proposes adding modular housing to the flat roofs of post-war housing estates, while Akira Yamanaka Architects' submission aims to create micro-housing in the gaps between terraced and semi-detached homes.
NBBJ proposes replacing a selection of roads with rows of new homes. There are 9,000 miles of streets in London, equating to more than a third of London's built surface area. They are not all needed, the thinking goes.
Some designers focused on new construction methods and prefabrication. A flexible apartment plan designed by Levitt Bernstein would allow the occupant to transform the floor plan from a one-bedroom to a four-bedroom. Y:Cube by Rogers Stirk Harbour & Partners also proposed prefabrication for cheap blocks of flats.
The free exhibition New Ideas for Housing runs from 15th October to 17th December, at the NLA galleries in The Building Centre, Store Street London WC1E 7BT.
Got a story? Email news@theconstructionindex.co.uk