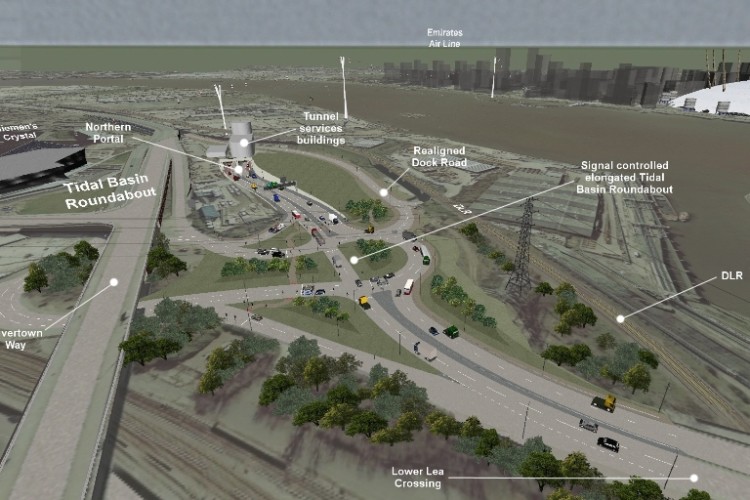 The proposed Silvertown Tunnel, consulted on last year, moves to a six-month public examination phase next week (11 October).
The road link between the Greenwich Peninsula and the Royal Docks is part of a package of new river crossings to be built in the next five to 10 years.
Others are a new pedestrian and cycle bridge linking Rotherhithe & Canary Wharf, which is to be accelerated, and a Docklands Light Railway (DLR) crossing at Gallions Reach towards Thamesmead, helping support the development of around 17,000 new homes across Newham and the Royal Borough of Greenwich.
There is also to be further assessment work for a Barking Riverside-Abbey Wood London Overground rail crossing and further assessment of a North Greenwich-Isle of Dogs ferry crossing, supporting new development on the Greenwich Peninsula and the Isle of Dogs.
The Silvertown Tunnel would open in 2023 to alleviate traffic congestion in the Blackwall Tunnel and be paid for via a user charge.
As a sop to pollution concerns, the plans inherited from the previous mayor, Boris Johnson, have been adjusted slightly. It is now proposed that a special cycle-bus will carry cyclists and their bikes through the tunnel, rather than have them breathe unfiltered tunnel air. The new mayor is also hoping to improve the new tunnel's green credentials by stipulating more construction traffic maximises river use rather than roads and that all vehicles working on the construction of the Silvertown Tunnel will be Euro 6 standard and comply with the mayor's new Direct Vision Standard.
The mayor has also asked for the acceleration of the new pedestrian and cycling bridge linking Rotherhithe and Canary Wharf. Due to river traffic at this location, the bridge would need to open for shipping and TfL has carried out analysis on whether a bascule or swing style bridge could be more suitable. A competitive procurement process will be held next year and subject to funding, availability of land and relevant approvals, the new bridge could be open by as soon as 2020.
On current estimates, these new crossings, along with the future Elizabeth line, could all be delivered within the next five to 10 years, TfL reckons. Funding would mostly come from developer contributions.
Mayor of London Sadiq Khan said: "It's no secret that London has long needed more river crossings in the east. With new homes and economic growth across East London, it becomes even more important that we deliver new greener transport links that allow Londoners to cross the river quickly and more easily.
"But we don't want these to have a damaging impact on our environment, and that's why I've reviewed and improved plans for Silvertown Tunnel and why I'm pushing forward with crossings that encourage public transport, walking and cycling.
"As we continue to unlock the massive economic potential of East London, we must secure the very best transport infrastructure that improves the quality of life for everyone living and working in the area."
TfL acting managing director of planning Alex Williams said: "London's population continues to grow and it's vital that we do everything we can to support this to ensure that everyone can continue to move around freely and easily. The mayor's new vision for river crossings in East London is firmly rooted in supporting growth and providing better public transport links for all. We will now work hard to develop the designs for these new crossings, as well as identify potential funding opportunities, to allow them to be constructed more quickly."
David Leam, infrastructure director at business lobby group London First, said: "Better river crossings will help unlock the economic potential of East and South East London and connect thousands of new homes in Newham, Barking, Greenwich and elsewhere. We're delighted the mayor has sped up these plans, aiming to deliver new ways of getting across the river within the next five to ten years."
The Freight Transport Association was also glad to hear the Silvertown Tunnel getting the go-ahead. FTA head of policy Christopher Snelling said: "London's biggest growth is going to come in the east, and the shortage of road crossings beyond Tower Bridge is already holding back the economy in that part of the city.   The congestion we currently have at crossings like Blackwall causes massive unnecessary local pollution and disruption for residents – we would all be better off with smoother flowing traffic.  This new crossing will not be enough to solve everything, but it will be a big step forward.  It will help the local economy and communities as it will support the logistics industry as it tries to provide the hundreds of thousands of tonnes of goods that London needs every day to keep functioning."
He added: "We still want to see more detail on the charging regime. It is crucial for the best use of the crossing that we do not discriminate against essential users like freight – as well as buses, coaches, disabled drivers and tradespeople. Charges should not be set in favour of car users who have other options as to how to get about. Freight traffic won't increase with more crossings as car traffic might, as the quantity of freight needing to be moved will not change."
Others don't want it built at all. "For Sadiq Khan to call this a 'greener Silvertown Tunnel' hides the fact that Greenwich and the Royal Docks would be a dumping ground for the south of England's congestion and pollution," said Anne Robbins, chair of the No to Silvertown Tunnel campaign group. "He talks a good game when it comes to pollution and congestion in central London, but communities in east and south east London clearly don't seem to matter as much. They will be living with even worse traffic and poorer air. Khan promised a full review of the tunnel, but has made no attempt to reach out to those who'll have to live with the consequences if his scheme is given the go-ahead."
Got a story? Email news@theconstructionindex.co.uk