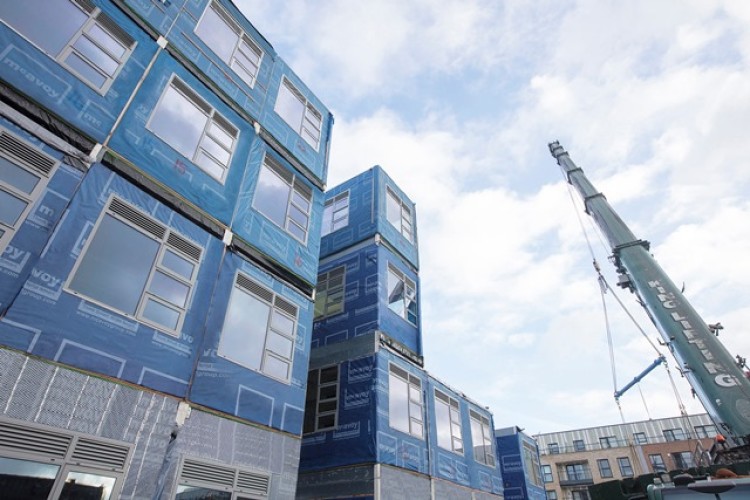 A report from the House of Lords science and technology committee, Off-site Manufacture for construction: building for change, says that off-site manufacture (OSM) offers solutions to many problems but industry fragmentation is in the way.
OSM can help to increase productivity, improve quality, reduce labour demands and reduce environmental impacts, the peers assert.
"However, take up of OSM is varied and somewhat limited across the sector because it is working with out-dated and unsustainable business models that are not conducive to OSM for construction," it says. "OSM requires collaboration between clients, designers and contractors from an early stage but much of the evidence the Committee received painted a picture of a construction sector that is fragmented and lacking in trust. These barriers must be addressed by the sector itself and strong leadership is needed from the Construction Leadership Council."
The government recently said that it had adopted a 'presumption in favour' of OSM for its projects. The committee recommends that the government develop and publish a series of key performance indicators against which the success of the 'presumption in favour' can be assessed. Where a project does not use off-site manufacture, the government should publish a statement explaining that decision, it says.


Chairman of the committee Lord Patel said: "There are clear and tangible benefits from off-site manufacture for construction which make a compelling case for its widespread use. We heard evidence that OSM could increase productivity in the sector by up to 70%.
"The construction sector's business models are no longer appropriate and are not supporting the UK's urgent need for new homes and infrastructure. The construction sector needs to build more trust and create partnerships so that companies can work together to improve the uptake of off-site manufacture, and the Construction Leadership Council should provide the necessary leadership.
"The role of the government and the wider public sector is pivotal in a move to greater use of off-site manufacture. The report sets out actions that the committee thinks the government should take including implementation of the Construction Sector Deal, committed execution of the 'presumption in favour' of off-site manufacture and a greater move to procuring for whole-life value rather than lowest cost."
The McAvoy Group was one of the offsite specialists that contributed to the report. Managing director Eugene Lynch said: "The construction industry faces significant challenges – low productivity, poor performance in consistent delivery on time and on budget, a growing shortage of key skills and a lack of transparency relating to issues such as life cycle costing and project performance. We believe these issues can be addressed with the wider adoption of offsite construction technology, provided the barriers to change can be removed. We look forward to the government's response to this visionary and extremely well-informed report."
Got a story? Email news@theconstructionindex.co.uk