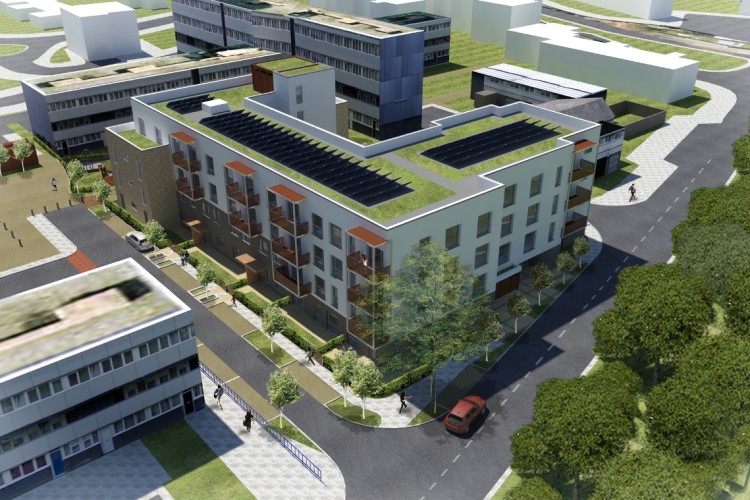 Lovell will build a four-storey building housing mix of one-, two- and three-bedroom apartments and maisonettes on the Heston Farm estate, on the site of the former Passingham House sheltered housing scheme which has been demolished. 
The new housing will create 19 homes for affordable rent and five for intermediate rent through Hounslow Homes; 17 homes will be for open market sale by Lovell. The scheme is the first phase of Hounslow Council and Hounslow Homes' major regeneration programme for six estates in the Heston area which has been developed in close consultation with residents. Construction work on the year-long development is set to start in March 2011. 
Designed by Sprunt Architects, the new building will take the form of a 'u' shape with an internal courtyard. All homes will have some outside space with either a private garden or balcony. 
The properties will meet Level 4 of the Code for Sustainable Homes, the system for measuring the environmental performance of new housing. That means they will be 44 per cent more energy-efficient than homes built to current building regulations, reducing energy bills for residents. Sustainable features will include solar thermal panels on the south-east and south-west facing roofs to generate renewable energy for heating water. 
Hounslow Homes chief executive Bernadette O'Shea says: "The partnership between Hounslow Homes, London Borough of Hounslow and Lovell to build 41 new, energy efficient and sustainable homes is exactly what the borough needs. These homes will reduce energy bills for future residents and provide much-needed homes in this area of the borough. We are thrilled to be a part of this project." 
Cllr Ruth Cadbury, Hounslow's Deputy Leader, responsible for Housing and Service Improvement in the borough, comments: "We are committed to working with businesses like Lovell to create more affordable housing in the borough. After consulting residents, the new development will offer state of the art energy-efficient housing and help to regenerate the Heston area." 
"We are delighted to be continuing our successful partnership with the London Borough of Hounslow, Hounslow Homes and the local community to help deliver these new energy-efficient, affordable homes," says Lovell regional director Steve Coombs. 
The scheme is the second to be undertaken by Lovell through its framework agreement with Hounslow Homes following the company's delivery of the £7.5m Convent Way development which has created 49 new houses and flats. 
Got a story? Email news@theconstructionindex.co.uk