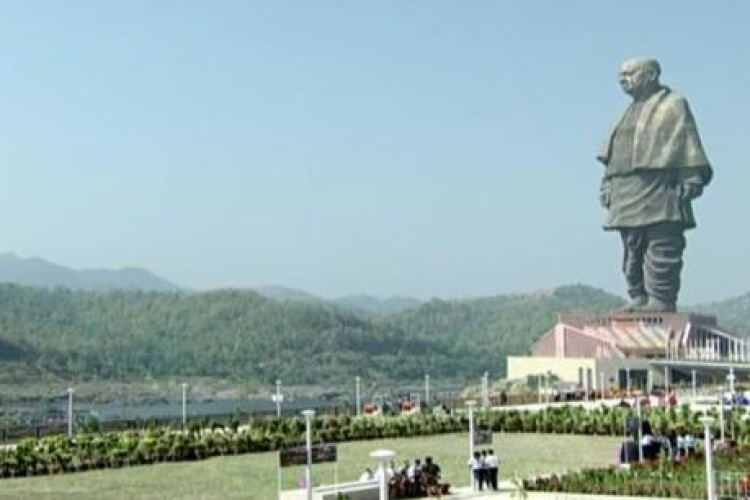 The statue – the tallest in the world - was inaugurated at by India's prime minister Narendra Modi.
The steel, concrete and brass-clad Statue of Unity was built by L&T in just 33 months. Work was carried out by the contractor's buildings & factories business under a design and construction contract awarded by the government of Gujarat.Turner International provided construction management services.
The statue, which commemorates Sadar Patel, stands on Sadhu Bet Island, approximately 3.5km south of Sardar Sarovar Dam at Kevadia in the Narmada district of Gujarat.

The statue is conceived as a naturalistic depiction of Patel in his characteristic garb in a walking pose. It rises out of a star-shaped, geometric base that covers the entire Sadhu Hill. The statue has a slender width to height ratio. The structure has two vertical cores each housing a high-speed passenger elevator. The vertical cores support the steel frames to which about 6,500 bronze panels are clad. A viewing gallery at the level at the chest can accommodate up to 200 visitors at one go and affords a view of the Sardar Sarovar dam and its environs.
L&T chief executive officer and managing director SN Subrahmanyan said: "Larsen & Toubro has delivered several projects of national significance and we are proud to be associated with building the world's tallest statue, which is a fitting homage to the Iron Man of India - Sardar Vallabhbhai Patel."
The SoU complex comprises an exhibition centre at its base, a memorial garden, a bridge connecting Sadhu Island with the mainland along the Narmada River, a 5km road and improvements to the existing infrastructure. It also hosts an administrative complex, a hotel and a conference centre.
Got a story? Email news@theconstructionindex.co.uk