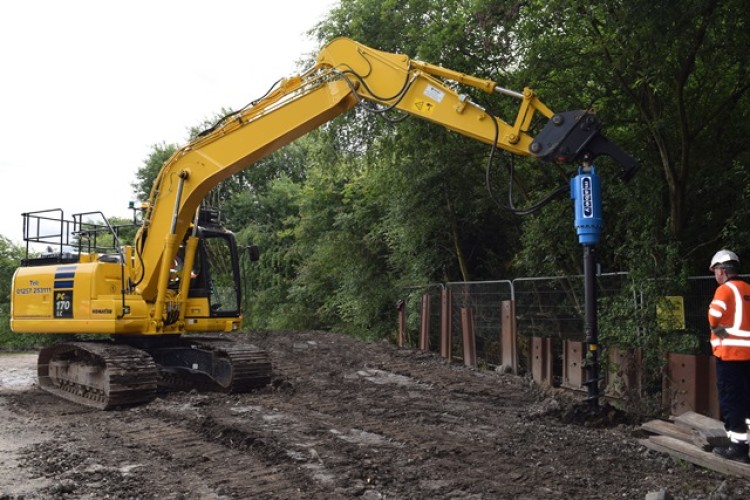 Mabey says that its new auger range offers a safer and faster way of driving sheet piles into difficult conditions than is currently offered by traditional piling methods.
The auger is fitted in the same way as the excavator mounted vibrator (EMV) and onto the same excavator.
Stevie Smillie, manager of Mabey's piling attachment services division, said: "Nine times out of ten, when a customer uses our EMVs, the trench sheets go in easily. But if our customer has drilled a bore hole and knows the ground is really hard two to three metres down, we would recommend they take an auger."
If customers have difficulty in driving trench sheets into the ground with the EMV, they generally either hire an auger specialist, or use the excavator bucket to dig out and backfill the soil, he said. Hiring an excavator auger attachment is a simpler solution, Mabey says.
Mabey has three auger sizes, suitable for mounting on excavators from five to 45 tonnes. An extension bar can be attached for extra drilling depth.
First customer was Newpool Construction on a site in Shifnal, Shropshire. Foreman Adrian Sumner said: "The auger has proven a huge asset on site and has performed exactly as we hoped it would in enabling us to bore into hard ground. It's a really great tool to have on board, especially as we move into the winter months, and is already offering a significant improvement to our working efficiency".
Got a story? Email news@theconstructionindex.co.uk