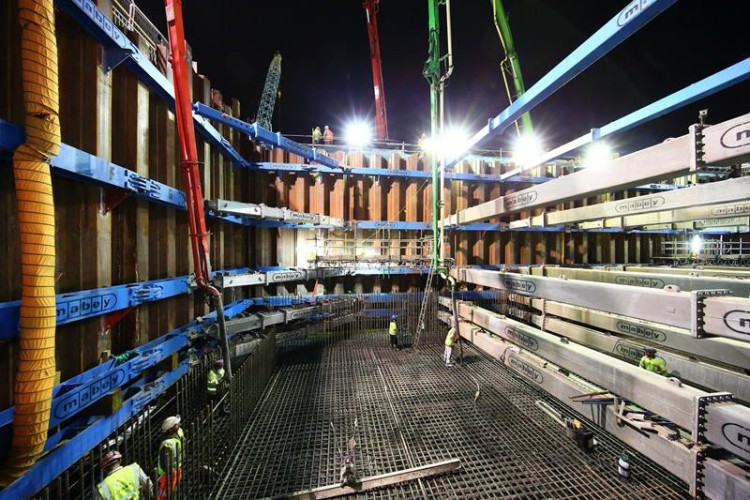 The excavation forms part of the £145m Derby & Derbyshire Waste Treatment Centre being built at Sinfin, Derbyshire. It measures 39 metres long, more than 19 metres wide and, at 12 metres deep, also represents Mabey's deepest ever excavation support project.
When the waste facility is completed in 2017, this large reception pit will hold waste before it is sorted, processed and incinerated to generate power.
The pit was constructed using a sheet pile cofferdam in a process planned by main contractor Interserve Construction with Mabey engineers. The pit was excavated by Clumber Civil Engineering as Mabey began to install a combination of Super Shaftbrace and Supershaft Plus waling beams and Super Bracing 400 and 600 struts.
Mabey says that its waling beam and propping solution was able to provide greater working room within the excavation thanks to the Super Bracing Struts which can be used to create unsupported spans of up to 31 metres. The choice of a sheet piled cofferdam solution, supported by as few frames as possible was the most economical and sustainable solution available, as the equipment has been removed and will be reused elsewhere, in contrast to a fabricated steel frame solution or other secant/pile walling method.

In total, Mabey supplied 450 tonnes of equipment to support the excavation – the largest amount it has ever supplied to a single project. Every frame was colour coded and every component numbered to ensure the teams installing them knew exactly where on site they were required. In order to maximise efficiency and minimise environmental impact, every delivery of equipment was precisely timed to fit with crane availability, and the equipment was single handled straight into the excavation.
The complex installation and removal sequence of support frames around the excavation, concrete construction and backfill operations was previewed using building information modelling. Mabey created a BIM model of the excavation support system using its in-house Revit library of components.
The design of Mabey's system allowed the three lower frames to be removed after the concrete base had been cast, allowing freedom from obstructions at the working level.
The Derby & Derbyshire Waste Treatment Centre is scheduled to be completed in April 2017.
Got a story? Email news@theconstructionindex.co.uk