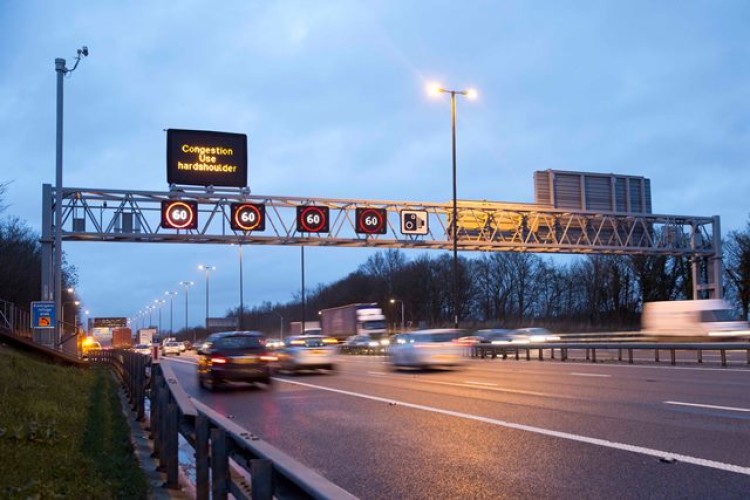 Balfour Beatty, Carillion, Costain and a BAM Nuttall/Morgan Sindall joint venture will all have to cooperate on the project as partners, which involves putting in cameras, gantries and variable message boards onto parts of the M60 and M62 motorways.
At peak, 1,000 construction workers will be on the project.
Balfour Beatty will take the lead on the project, overseeing the work of the other three contracting partners.
The idea of so-called 'smart' motorways, previously referred to as 'managed motorways' is that variable speed limits can be set to maintain smooth, steady traffic flow, thus reducing or eliminating the accelerating and braking that leads to snarl ups. The signage also allows the hard shoulder to be opened up to traffic as an additional lane at peak times.
The contract is being delivered under the Highways Agency National Major Projects Framework. The collaboration agreement is intended to reduce individual contractor risk and encourage knowledge sharing and best practice.

The M60 between junctions 8 and 12 will be upgraded to a controlled motorway with traffic flows managed by technology interventions responsive to the volume of traffic on the network.  The M62 between junctions 18 and 20 will become a four-lane, all lane running motorway by adapting the hard shoulder for continuous use and using electronic signs to manage traffic flows.
Construction work will start in July and is scheduled for completion by autumn 2017. Work includes installing and refurbishing gantries, new static and variable signs, lighting, concrete safety barriers, drainage and surfacing works. Some 200 electronic signs and 24 new CCTV cameras will go up.
Balfour Beatty executive chairman Steve Marshall said:  "We have been working with the Highways Agency for 20 years and look forward to building on that successful relationship.  This scheme will benefit the 180,000 road users that pass through this section of the motorway network every day. We are committed to lead this project in a collaborative way with our partners, employing local people and businesses in our supply chain."
Costain chief executive Andrew Wyllie said: "The upgrading of our road network infrastructure is essential to maintaining and improving connectivity amongst the various regions of the UK, and thus to enabling the nation's economy to grow. We look forward to working in collaboration with the Highways Agency and with our partners to deliver this project, using the latest in new and innovative traffic management technology."
Carillion chief executive Richard Howson said: "As a leading supplier to the Highways Agency we are delighted to have been selected for this latest Smart Motorway scheme.  We look forward to working with the Highways Agency and our delivery partners to increase capacity and improve journey times and safety on the M60 and M62."
Got a story? Email news@theconstructionindex.co.uk