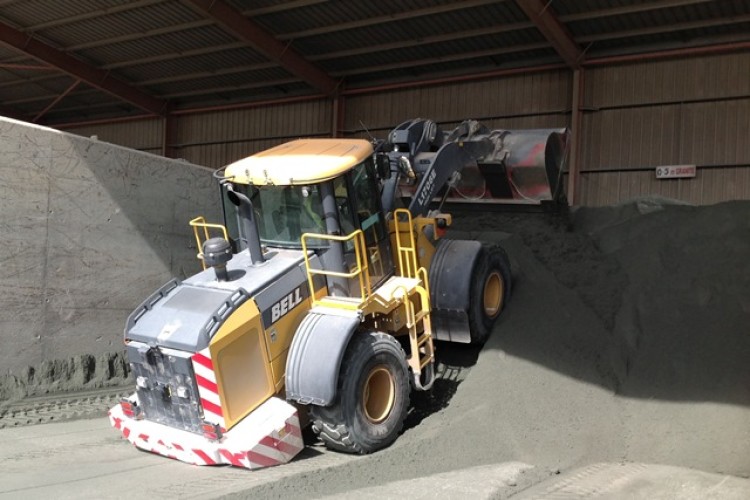 The deal, for Marshalls' Brookfoot site in Halifax, followed trials of the machines to ensure that they met with the approval of the operators.
A Bell Equipment 1706 wheeled loader was given a one-week trial alongside models from other manufacturers.  After the trials were complete, the drivers picked Bell as their favourite.
Marshalls senior group buyer Jonathan Galvin said: "We are extremely reliant on superior earth moving equipment that will stand up to the demands required at our numerous operations around the country. Quality and reliability are critical components in our machine selection process, as any equipment used needs to meet the challenge of materials handling across our extensive product range.  However it's our drivers that have the soundest knowledge of how machines really perform when put to the test. 
"We want our operatives to feel confident in the capabilities of the equipment they use as well as its ergonomic aspects, so we enabled a process of feedback whereby machine selection decisions can be made on a site specific basis in conjunction with looking at the lifetime cost of running the machines (including maintenance and fuel burn).  Over the years we've put a number of wheeled loaders from different manufacturers through their paces – all of which have offered quality, but not necessarily cost effectiveness."
About the Bell machine, he said: "Our drivers were impressed with so many of its aspects, including the more powerful, longer arms that enables operators to effortlessly reach from the aggregate bays into tall batching plant  hoppers, and the ergonomic  cab that offers greater, practical comfort.
He added: "This invaluable 'trial' exercise has been a superb opportunity to test what's actually out on the market at present, and how machines really compare, as well as the options to purchase or hire."
The selection of the machine at the Halifax operation led to Marshalls requesting a similar trial its Sittingbourne operation in Kent, where drivers again chose a Bell loader.
Got a story? Email news@theconstructionindex.co.uk