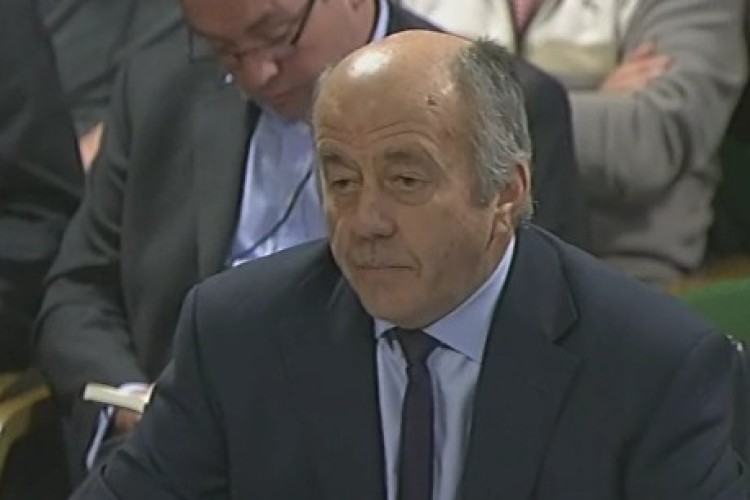 Mr McAlpine admitted that he was the founder chairman of The Consulting Association, the organisation that grew out of the ashes of the Economic League in 1993 to manage a list of construction workers considered 'subversives' and a risk to employers.
He was responsible for its commercial success, he said, but not how it operated.
Appearing before the Scottish Affairs Committee, Mr McAlpine denied that the service offered by The Consulting Association was a blacklist, as he understood the term, since those on the list were not 'automatically' prohibited from being employed.
He also denied that either he or his family firm were the instigator of, or prime mover behind, The Consulting Association, nor that his company actually ran any blacklist. He sought to make clear that if there were names on the list that should not have been on the list, it was nothing to do with him or his company.
However, he admitted that McAlpine was a major user of the service, routinely faxing over lists of names to what was effectively a centralised industry vetting service for HR managers. In 2008 Sir Robert McAlpine was the biggest user of the service. Cullum McAlpine, a director of the company since 1970, said that this was because it had a lot of major projects starting that year, and many of them were sensitive – either financially, politically or both.
He said that the company had become particularly careful about who it employed on sites having had one raided by the Border Agency in 2006 and had a lot of illegal immigrants removed.
MPs expressed their incredulity at this suggestion that referring to a list of supposed political subversives could be useful in checking migrant status.
McAlpine projects for which workers were vetted against The Consulting Association's list of undesirables included: Colchester Garrison, shopping centres in Bristol and Leicester, a major MoD project on Salisbury plan, the M74 link road, the Quarter Mile project in Edinburgh, the Marie Curie Centre in Glasgow and groundworks on Olympic Stadium. He said that no workers on the Olympic project were flagged up by The Consulting Association.
The reference service was not used for the main Olympic Stadium build because by that time the organisation had been shut down by the Information Commissioner's Office for breaches of the Data Protection Act.
The prime mover behind the setting up of The Consulting Association was Percy Trentham, he said, who asked McAlpine to offer a main board director to help set it up since they wanted a major civil engineering contractor to front it. The fact that Cullum McAlpine was chairman for the first four years and his HR director David Cochrane was chairman for the last four years of the organisation's 17-year existence was simply a reflection of the size and importance of the company, he said. He was never in charge of operations at The Consulting Association; he just chaired the finance committee to help ensure its finances were in order, he said.

"My role and responsibilities were confined to ensuring the association was set up on a commercial basis," he said.
Mr McAlpine was quizzed by MPs on alleged attempts to cover up his and his company's association with The Consulting Association once the ICO investigation began. He was asked why the final pay-off to The Consulting Association's chief officer Ian Kerr was paid to Mr Kerr's daughters, if not for reasons of subterfuge.
He denied all knowledge of this and sad that by this time it was Mr Cochrane who was the company's liaison with the organisation. "I have no idea what Mr Cochrane was doing," he said.
Mr Kerr gave evidence before the committee in November 2012 and died a few weeks later of natural causes. A transcript of his cross-examination,m in which he comes clean about his activities, can be read in full on the committee's website, (click for link here).
With his company lawyer beside him, Mr McAlpine yesterday declined to answer any answers that could incriminate him in pending legal action.
Asked if any lessons have been learned, Mr McAlpine said that it would have been better if the service had been out in the open rather than covert. The Consulting Association's activities were not illegal at the outset and only became so after the passge of subsequent legislation.
Commenting after the hearing, Steve Murphy, general secretary of construction trade union Ucatt, said: "Cullum McAlpine's evidence demonstrates the sheer scale of his company's blacklisting activities, which included the Olympic Stadium. This is a further reason why we need a Government inquiry into blacklisting so that the full truth can come out."
On the idea that McAlpine sought to use the list to help comply with the law and not employ illegal immigrants, Mr Murphy added: "It is simply not credible to suggest that The Consulting Association was keeping files on workers immigration status, or that this was the best way of checking whether someone was legally entitled to work. Workers were primarily on the blacklist because of their trade union membership, their political beliefs or because they had raised health and safety issues."
The full list of companies that supported and used The Consulting Association:
(Source: The Information Commissioner's Office)
Amec Building Ltd
Amec Construction Ltd
Amec Facilities Ltd
Amec Ind Div
Amec Process & Energy Ltd
Amey Construction – Ex Member
B Sunley & Sons – Ex Member
Balfour Beatty
Balfour Kilpatrick
Ballast (Wiltshire) PLc – Ex Member
Bam Construction (HBC Construction)
Bam Nuttall (Edmund Nuttall Ltd)
C B & I
Cleveland Bridge UK Ltd
Costain UK Ltd
Crown House Technologies
(Carillion/Tarmac Const)
Diamond M & E Services
Dudley Bower & Co Ltd – Ex Member
Emcor (Drake & Scull) - 'Ex Ref'
Emcor Rail
G Wimpey Ltd – Ex Member
Haden Young
Kier Ltd
John Mowlem Ltd  -Ex Member
Laing O'Rourk (Laing Ltd)
Lovell Construction (UK) Ltd – Ex Member
Miller Construction Limited – Ex Member
Morgan Ashurst
Morgan Est
Morrison Construction Group – Ex Member
N G Bailey
Shepherd Engineering Services
Sias Building Services
Sir Robert McAlpine Ltd
Skanska (Kaverna/Trafalgar
House Plc)
SPIE (Matthew Hall) - Ex Member
Taylor Woodrow Construction Ltd – Ex Member
Turriff Construction Ltd –Ex Member
Tysons Contractors – Ex Member
Walter Llewellyn & Sons Ltd - Ex Member
Whessoe Oil & Gas
Willmott Dixon – Ex Member
Vinci PLC (Norwest Holst Group).
Got a story? Email news@theconstructionindex.co.uk