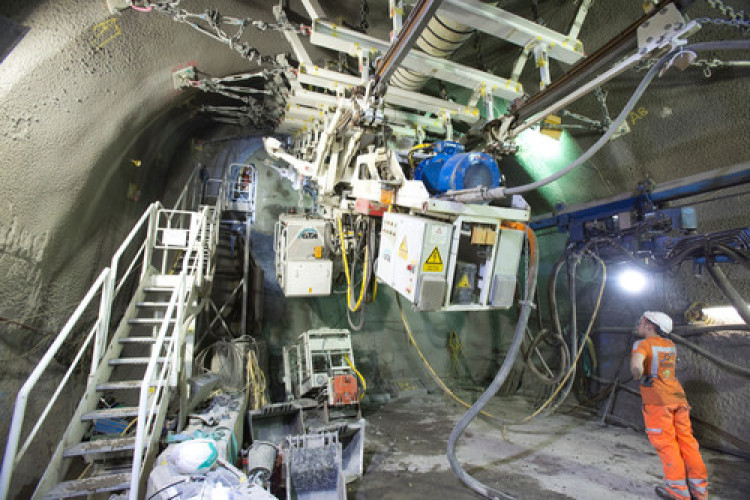 Balfour Beatty and Vinci, which have worked together on several mega projects including the Channel Tunnel and Crossrail, have published a report together, setting out their recommendations for improved project delivery: Innovation for the Future – Better Delivery of Mega Projects.
The report sets up Crossrail as an exemplar of best practice for its approach to innovation
"Too often though, the temptation for those running the bidding process is to control risk by using tried and tested methods," says the report, written by Balfour Beatty head of public affairs Veena Hudson. "The exception to this has been Crossrail, where a novel approach, known as 'optimised contractor involvement' was developed and introduced. This was one of the processes introduced by the Crossrail Innovation Forum, a dedicated team set up to drive and oversee innovation."
The report says that contractors should be encouraged to put forward new ideas, as partners in the project team, to help improve output and not just simply fulfil an input specification.
The report quotes Andy Mitchell, former Crossrail programme director and currently Tideway Ltd CEO, saying: "When it comes to innovative ideas...on major projects the natural state of mind is to control risk by using the tried and tested."
Instead, Balfour Beatty Vinci believes, "challenging the status quo of existing technology should be promoted where possible, as it can lead to important savings".
It offers the example of the introduction of the uphill excavator, designed and constructed by GTA Maschinensysteme GmbH, on the Crossrail C510 project as an example. "The on-site team realised that the ability to excavate upwards from existing tunnels at the base of the escalator shaft would generate significant time and cost savings over the normal process. In response, the Balfour Beatty Vinci and Morgan Sindall joint venture, BBMV, introduced a bespoke uphill excavator that is suspended from the ceiling of the construction tunnel and advances in line with the tunnel progression."
The full report can be read here, but below is the summary of its recommendations.
1. All mega projects should follow the example of Crossrail and develop and implement an innovation strategy.

2. The [UK] government should maintain funding in R&D ensuring that it is accessible and operating within a long-term strategy to support innovation, whilst also setting an overall framework which effectively manages the risk that comes with these innovations and establishing a firm pipeline for infrastructure projects which builds and maintains investor confidence.
3. The government should also consider establishing a mechanism to boost R&D in construction, such as France's R&D tax credit, in order to redress the decline in public funding of R&D in construction and bring the UK into line with other advanced countries which have dedicated construction R&D funding streams.
4. Contractors must be encouraged to suggest new ideas, implement them and share rewards even once contracts have been awarded and the supply chain established.
5. Contractors should be treated as partners in the delivery of mega projects: this is more likely to drive the delivery of high quality projects to time. Contracts should therefore be based on a set of common interests with well-defined payment structures and a balanced mix of incentives and penalties, rather than a position where fixed-price contracts, risk transfer, lowest-cost tendering and adversarial relationships are the norm.
6. Outcomes-based specification in contracts as opposed to overly-detailed specification should be considered where it allows for greater innovation and allows suppliers to adapt to unexpected challenges which emerge once contracts have been signed. 
7. Those commissioning mega projects should consider a longer, more detailed planning cycle before construction begins, in order to save time and cost later in the process.
8. The incentives, both regulated and non-regulated, that govern infrastructure networks, should be examined in order to address the fact that they often promote low-risk behaviour and impact on procurement processes.
9. Barriers to developing and accepting innovative ideas must be challenged and regulators and other key players should be encouraged to facilitate innovation. 
10.  Those companies which pioneer innovative new ways to drive efficiency while maintaining quality should be drawn out for praise.
Got a story? Email news@theconstructionindex.co.uk