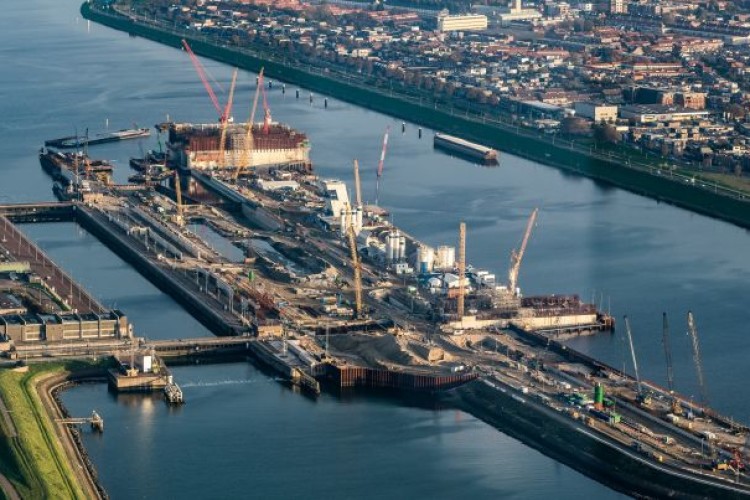 The lock gates for the outer lock head will slide in and out of the caisson, which is now in its final position. The caisson is 80mlong, 26m wide and 22m. Over recent months it has been immersed centimetre by centimetre to the right depth, in a controlled manner.
Construction has been proving expensive: BAM announced last year that it has taken a €55m (£58m) hit on the project, mainly due to a redesign of rhe caissons (link opens in new tab). In March, VolkerWessels said that its share of provisions in relation to the project's setbacks had reached a total of €67.5m.
The caisson was sunk into the ground using remote-controlled robotic arms to remove the underlying sand. This fully automated process was monitored 24/7 using sensors, measuring instruments and cameras installed underneath the caisson. The next step will be to fill the space beneath the caisson with concrete.

In 2019, the inner lock head caisson – which is even larger, measuring 80m long, 55mwide and 25m high - will be immersed into its final position using the same method.
Work has been underway in IJmuiden since 2016 to construct the world's largest sea lock. The new lock, which will be 500m long, 70mmwide and 18m deep, is a joint project between the Dutch Ministry of Infrastructure & Water Management, the province of Noord-Holland, the municipality of Amsterdam, Port of Amsterdam and the municipality of Velsen. The new sea lock, which was commissioned by Rijkswaterstaat, is being built by the OpenIJ contracting consortium. Construction is being carried out by a 50/50 joint venture between BAM and VolkerWessels.
Got a story? Email news@theconstructionindex.co.uk