The new college will be the first and largest development at the multi-stakeholder Inverness campus site, which is currently being developed by Highlands & Islands Enterprise on the outskirts of the city. The 13.3 acre development is expected to create 300 jobs during construction.
The project is also the first college to be financed through the Scottish Futures Trust (SFT) non-profit distributing (NPD) model – an alternative finance model to the private finance initiative (PFI) that caps profits, returning any surplus to the state. The City of Glasgow and Kilmarnock colleges will follow later in the year using the same model.
Inverness College, part of the University of the Highlands and Islands (UHI), expects its new 20,000 square metre building to be a catalyst for economic development across the region and provide facilities for 8,500 students.
Equitix has entered into a 25 year commitment as 50% investor with funds coming from local authority and UK pension funds.
Miller Construction will provide its full end-to-end services offer in the delivery of the new College. The company has entered into a 25 year commitment as a 50% co-investor; Miller Construction will provide integrated design and build services and on-going facilities management for 25 years delivered through Miller Asset 24. 
Inverness College UHI is the fifth revenue financed project to be closed by Miller Construction in the past 18 months.  Investment director Mark Baxter said: "Measured from start to finish this has been a very fast procurement. Given this is the first of the new wave of NPD projects to close this is testament to the professionalism of all involved. We look forward to further closes this year and further NPD projects in the future."

Work is expected to start on site immediately and will be completed in time for the beginning of the 2015 term.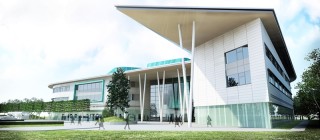 Deputy first minister Nicola Sturgeon said: "The new £50m Inverness College UHI will be a landmark building, the centrepiece in a high quality, modern and sustainable campus being developed on the outskirts of the city."
Barry White, chief executive of the Scottish Futures Trust (SFT), said: "Reaching financial close of a project of this size and complexity in only 17 months is unprecedented. This project, funded through the SFT led NPD programme, is a massive boost to the local economy with the main contractor committed to deliver at least 25 apprenticeship positions.
"When it opens in summer 2015, Inverness College UHI will be housed in modern, high quality and fit-for-purpose buildings and achieve great value-for-money thanks to the collaborative efforts and professionalism of all partners involved."
Got a story? Email news@theconstructionindex.co.uk