Contractor Fletcher devised the solution on the project for the Stronger Christchurch Infrastructure Rebuild Team (SCIRT).
Initially, traditional scaffolding with a boarded and sealed deck was to be used for access and environmental protection under the bridge while the team went about its work.
The bridge was originally built around 1886 and extended in 1936. It is being strengthened to take heavy vehicles to support the redevelopment of the central city. SCIRT has removed the original deck, is installing eight new steel beams alongside the quite fragile cast iron girders and will install a new precast concrete deck.
Protecting the environment was important as the paint on the original cast iron bridge girders contained lead that had to be removed before repainting.
Early in the construction a risk assessment identified an increased chance of the Avon flooding from debris carried in the river flow, which could become trapped around the legs of the scaffolding deck. This could restrict the water flow and lead to flooding of public areas around the bridge.
The team decided to substitute most of the scaffolding with four mobile work platforms running on rails placed on top of the minimal remaining scaffolding. The mobile platforms did not require supporting legs into the river and so allowed the river to flow freely underneath.
The mobile platforms span from one side of the river to the other and move on the rails back and forward across the width of the bridge. They have built-in kick boards and safety rails around the edges and can be removed in about 20 minutes if there is a flood risk.

The mobile platforms have been designed to collect any environmental contamination and prevent it from entering the river.
For the removal of the lead paint and repainting of the cast iron girders, the bridge was wrapped in plastic which prevented air dispersion of the lead, kept the area warm and moisture out. The platforms move freely under the bridge and within this "tent".
The debris left by the garnet blasting of the girders was removed by vacuum suction and manual sweeping.
The steel beams, which will be the new support structure, will not be visible. They will be hidden by the existing structure and new bridge deck. The old cast iron structure, essential to the heritage character, will be purely decorative.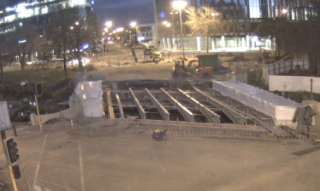 "The bridge will look the same but it is in no way the same", said SCIRT designer Steve Procter. "Most importantly we want to keep the heritage character of the bridge."
SCIRT is now more than halfway through the project, and is scheduled to finish in December this year.
Got a story? Email news@theconstructionindex.co.uk