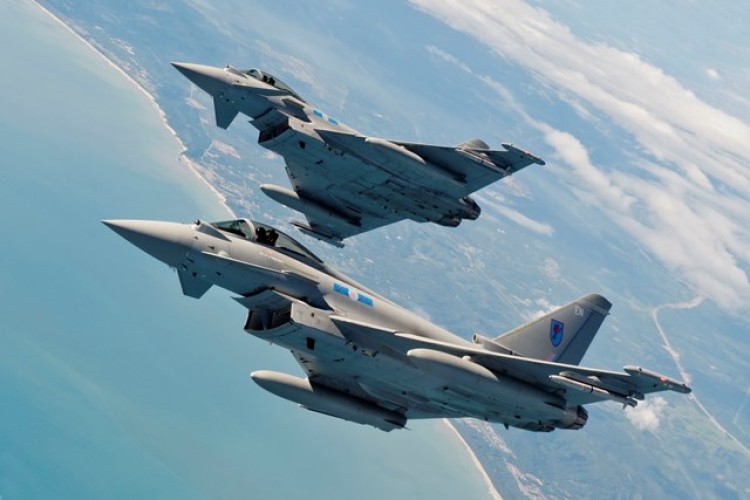 The work will help enable Typhoon fast jets to operate from the base.
Turner Estate Solutions is the existing regional prime contractor responsible for delivering infrastructure work in Scotland for the MoD's Defence Infrastructure Organisation (DIO).
Turner Estate Solutions will undertake the work in around 14 months. This builds on some £17m of works already in progress at the airbase.
The latest contract will provide infrastructure to support Typhoon operations and make the base a suitable home for II (Army Cooperation) Sqn, the third Typhoon squadron to stand up at RAF Lossiemouth.

It will include operational planning, mission briefing and management functions, provision of secure under-cover aircraft storage, engineering management and control functions required to support the effective operation of the Royal Air Force's front-line Typhoon aircraft at the airbase.
DIO director of finance and commercial Marcus Leek said: "DIO's priority is to enhance the service we provide to Defence and build a better estate – the right buildings in the right places.
"We're delighted to award this contract to Turner Estate Solutions and look forward to delivering the facilities required to further enhance RAF Lossiemouth as a front-line operating base for the UK's Typhoon force."
The award of this contract follows the 2011 MoD review of bases, relocating the Typhoon Force from RAF Leuchars to RAF Lossiemouth. Earlier this year two Squadrons from RAF Leuchars – Number 1 (Fighter) and 6 Squadrons – relocated to RAF Lossiemouth. They will be joined by Number II (Army Co-operation) Squadron at RAF Lossiemouth in April 2015.
Got a story? Email news@theconstructionindex.co.uk