However, there is also optimism about domestic growth prospects, according to the Construction Products Association's latest state of trade survey, published today.
Heavy-side construction product sales bounced back in Q2 following the weather-affected Q1. Compared to Q1, a net balance of 14% of heavy-side manufacturers saw their sales increase in Q2.
The rebound in light-side sales was less noticeable. After a fall in quarterly sales in Q1, activity was broadly flat in the three months to June.
Both heavy- and light-side sales continued to fall year-on-year reflecting continuing tough domestic construction market conditions.
Market sentiment improved in Q2 with a net balance of 38% of heavy-side and 31% of light-side companies expecting sales to rise in Q3.

Export growth continued to boost sales in Q2 with 30% of light-side and 20% of heavy-side companies reporting a rise in exports quarter-on-quarter, on balance.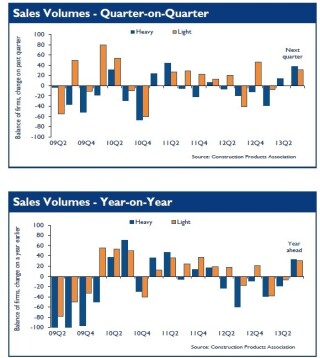 Commenting on the figures, Construction Products Association economist Milja Keijonen said: "'The second quarter of 2013 saw a predicted bounce back in quarterly construction product sales following a weak performance during the first three months of 2013. Export sales continued to provide a lifeline for many product manufacturers, whilst the domestic construction industry remained subdued. Both heavy and light side sales continued to decline on an annual basis, even if the pace of these falls showed signs of slowing down from Q1.
"Looking ahead, product manufacturers remain optimistic about sales growth. Recent data releases on the UK economy have fuelled optimism over growth prospects. Also, market conditions are expected to improve as the year progresses with private housing one of the key sectors expected to boost domestic demand. Export sales are anticipated to continue providing a boost even if most European economies, the UK's main export markets, remain firmly in negative territory."
Got a story? Email news@theconstructionindex.co.uk