Both facilities will be completed concurrently and within a short timescale; handover is scheduled for July 2022. 
The project is part of a £100m deal for six logistics facilities at Castlewood agreed between Clowes insurance firm NFU Mutual last year.
Castlewood Business Park is near Sutton-in-Ashfield, close to junction 28 of the M1. More than 1.5 million sq ft of distribution and manufacturing space is already occupied at the site. This next development phase that Winvic is delivering comprises two speculatively built modern warehouses. Plot 1 is 158,500 sq ft and 15 metres high with 18 docks and four level access doors. Plot 8 is 126,500 sq ft and 12.5 metres high with 12 docks and four level access doors.
Winvic has begun by undertaking cut, fill and compaction works to create the plateaux before completing the foundations. Steel frame installation begins this month and cladding in February. External site works include all drainage and service installation, hardstandings, landscaping and parking for cars and HGVs. 

Winvic is also constructing two industrial units in Corby for Clowes Developments and is delivering the first phase of groundworks, highways and utility infrastructure works at Fairham, a new £800m neighbourhood in Nottingham, which Clowes is delivering in partnership with Homes England.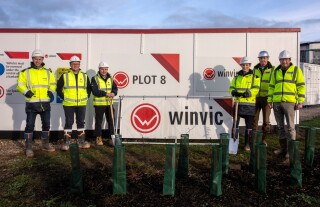 Winvic Construction director Ben Shearman said: "Winvic has been working with Clowes Developments for some time now on both industrial, and civils and infrastructure schemes including a new purpose-built facility for Deichmann-Shoes in Corby."
On another Clowes project, however, Etiquette Park in Ilkeston, the developer is using a new construction company called TanRo, set up three months ago by former Winvic managers Fintan Phelan and Robin Orgill. TanRo is building a 27,249 sq ft warehouse for which the end-user is Catering24.
Got a story? Email news@theconstructionindex.co.uk