This takes the total number of tall buildings in the capital's pipeline to 436.
The research, which is updated annually, is published by New London Architecture (NLA) and GLHearn and includes buildings of 20 floors and more.
Since January 2015, the number of tall buildings that are under construction has increased from 70 to 89.
A total of 233 tall buildings in London have planning approval but are yet to start on site and a further 114 towers are either in planning or at pre-application stage
94 tall buildings were submitted for planning since this time last year, up from 72 in the previous year. Of these 43 were approved in the same year, although 32 of these form part of the Greenwich Peninsula scheme, which has been developed through the planning system over a number of years. Three were refused and the rest await planning approval.
A significant number of the tall buildings planned form parts of wider masterplans, which arrange multiple towers in clusters.
While there is a large number of tall buildings in the pipeline, only a relatively small proportion are actually being built. Just 19 tall buildings were completed in 2015, up from six the previous year.
For the third year running, Tower Hamlets is host to the majority of tall buildings surveyed – a total of 93 are proposed (either in planning or at pre-application stage). Greenwich takes second place, with 67 projects, a significant increase from the eight schemes a year ago. An increasing number of tall buildings are also coming forward in outer London, with 23 proposed in Barnet and 18 in Croydon.
The so-called City Cluster will see a number of new tall buildings around Leadenhall, with the proposed 1 Undershaft becoming the tallest in the City at 73 floors high, and a new design for 22 Bishopsgate.

Pictured below is, firstly, the City now, and then how the skyline would look if the planned towers were all built: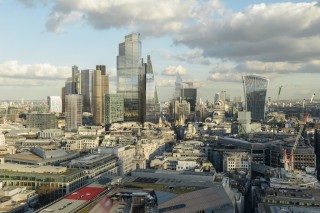 The average height of London's new tall buildings is approximately 30 storeys, with 60% of the tall buildings reaching between 20 and 29 storeys. Only eight planned buildings top 60 storeys. City Pride in Tower Hamlets will become the capital's tallest residential tall building at 75 floors. The trend towards high blocks of flats continues; 73% of the proposed tall buildings are designed primarily for living accommodation.
Here's what's planned on the South Bank, again... before and after: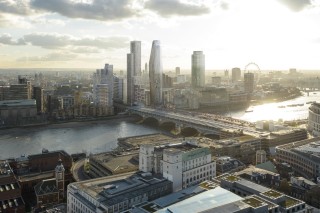 New London Architecture chairman Peter Murray said: "We believe that well designed tall buildings in the right place, and well-coordinated clusters, are acceptable. It is increasingly important that the planning and development community improves the way it communicates with the wider public. We continue to press for the Mayor to prepare a three-dimensional computer model of the whole of London to better assess the impact of these buildings. The 436 tall buildings in the pipeline is a significant number. However, with the much publicised softening of the housing market, it remains to be seen how quickly they are delivered."
Got a story? Email news@theconstructionindex.co.uk