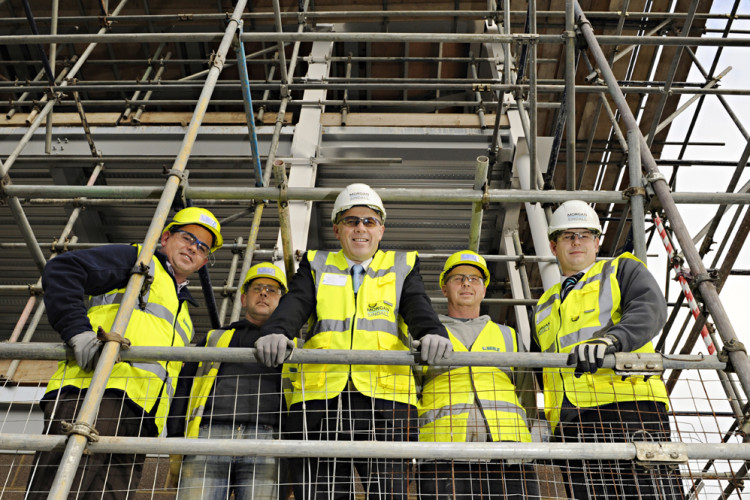 The company is employing as many local people as possible to work on the £6.5 million scheme for Dorset Fire and Rescue. Weymouth-based bricklaying firm L C Wills is one of the firms benefitting, with a dozen workers currently working at the new Fire Station site.
"Having construction firms such as Morgan Sindall sticking with us, especially when times are tight as they are now, is a huge boost," says L C Wills managing director Lee Wills, who employs a total workforce of around 40.
Lee adds: "Local companies bring local knowledge and expertise. Firms like Morgan Sindall recognise the importance of local relationships and how they can benefit from working with suppliers and subcontractors able to add value to their projects in this way. Having this kind of long-term relationship with a main contractor allows us to keep providing jobs for local people, thereby helping the local economy."  His firm is currently also working with Morgan Sindall on projects at The Blandford School and Downlands Community School at Blandford Camp. Previous projects which both firms have worked on include the Wyvern and Westfield schools, both in the Weymouth area, and more recently Poundbury Fire Station and Service Headquarters in Dorchester.
"We are currently taking on more contractors as the construction programme for the Weymouth Community Fire Station progresses and we're really committed to using as much local labour as we can," says Morgan Sindall area director Paul Gale. "In the current economic climate, strong relationships are everything. We believe in looking after the things which matter most to us – our customers, our people, our suppliers and our subcontractors. It's that focus which is enabling us to continue to win work, putting us in the fortunate position of having a strong project pipeline. This means we can continue to invest in the local economy by working with local subcontractors and suppliers."  Morgan Sindall's local offices are at Albany Park, Cabot Lane, Poole.
The Morgan Sindall team is making good progress on the new Community Fire Station building, which will be completed next summer. The ground-floor blockwork is well under way and the team is also working on the floor screeding and roof coverings.
As well as being a working fire station, the building will also house a community centre which will actively seek to encourage the community to take advantage of health and safety training.
Got a story? Email news@theconstructionindex.co.uk