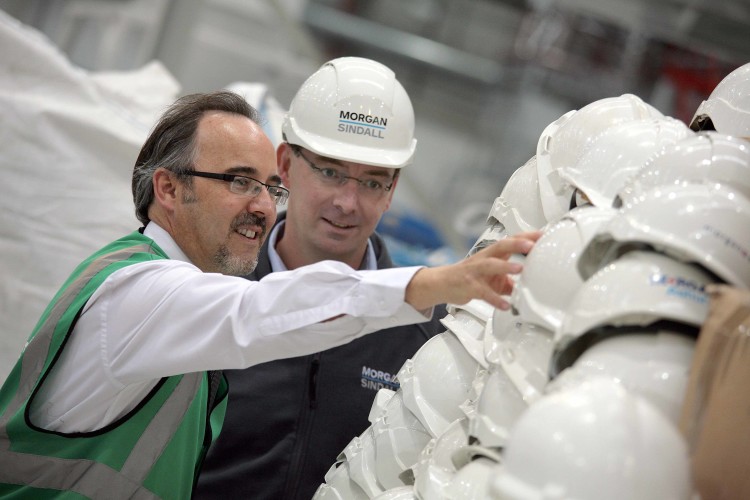 The company has sent more than 4,000 old hats to a manufacturer to be moulded into the environmentally-friendly boards which will be used as site hoardings. 
Morgan Sindall's decision to re-use the old hats comes after the business re-branded earlier this year following a merger of its sister design and infrastructure businesses.  
The formation of the new business meant that the old branded hard hats with the former company logos on needed to be replaced. Rather than disposing of the old hats, the company joined forces with innovative plastic recycler 2K Manufacturing to turn the hats into EcoSheet boards. 
"In the past, it has been standard practice in the construction industry to send hard hats to landfill when they need to be replaced," explains Brian Handcock, Morgan Sindall head of sustainability and environment. "As a company, we make every effort to limit the amount of waste we send to landfill and try to reuse materials and old equipment wherever possible, so when our old branded hard hats had to be removed from service, we wanted to find a way of using them again." 
Morgan Sindall collected up hard hats from offices and construction sites all over the UK and transported them to 2K Manufacturing's headquarters in Luton where they were moulded into EcoSheet boards. 
"EcoSheet is an excellent piece of technology for the construction industry because it removes the need for using plywood boards on site which cannot be recycled," says Brian. "We've been really impressed with the results and are already using EcoSheet boards on a number of our construction projects." 
"The groundbreaking technology we use to produce our award-winning EcoSheet boards is enabling us to bring a new lease of life to some of the four million hard hats that are produced each year in this country alone," says Peter Ball, 2K Manufacturing's head of sales. "We enjoy working closely with construction companies like Morgan Sindall to help reduce the amount of waste they commit to landfill by providing sustainable solutions which benefit them both commercially and environmentally."
Morgan Sindall 
Morgan Sindall is a UK construction, infrastructure and design business with a national network of local offices. We employ over 4,800 people who work for private and public sector customers on projects from £50,000 to over £500 million. Our activities range from small works and repair and maintenance, to the design and delivery of complex construction and engineering projects where we are able to provide specialist tunnelling, utilities, building, civil engineering and mechanical and electrical services. We operate across the commercial, defence, education, energy, healthcare, industrial, leisure, retail, waste, water and transport sectors.  With revenues in excess of £1.5 billion, Morgan Sindall is part of Morgan Sindall Group plc, a leading UK construction and regeneration group operating through four divisions of fit out, construction and infrastructure, affordable housing and urban regeneration, and an investment unit. 
About EcoSheet
EcoSheet is a recycled product which is set to revolutionalise the construction and sign industries.  EcoSheet is the world's first recycled plastic plywood substitute made entirely from recycled waste mixed plastics that is 100% recyclable at end of life. 
Using a unique technological process, Powder Impression Moulding, low grade mixed waste plastic – consumer, industrial and construction waste – is turned into a robust and versatile plastic board for many different purposes that can be used again and again, creating a complete closed loop system. 
EcoSheet is being used by the construction industry initially because of the environmental impact relating to plywood. Over 25 million plywood sheets are used annually which are not recyclable and have to be landfilled. EcoSheet has been trialed as a sustainable alternative by a number of high profile construction companies. It outperforms imported plywood commercially, operationally and environmentally. 
The Luton factory will reprocess 30,000 tonnes of low grade waste plastic, which would otherwise go to landfill or be incinerated, in its first year of operation.  And there are plans to open many more production sites located near consumer waste streams in the UK which will enable the production of up to four million pieces of EcoSheet each year.  
EcoSheet offers the following benefits to users:
Flat with no face defect issues
Impervious to rain and humidity and can  be stored outdoors
No painting needed to protect it, but it can be painted
Available in corporate colours
Both sides are "A" faces
Can be jet-washed between uses
High fixing strength - it can be nailed with 50mm round wire nails, screwed and glued
Standard sizes: 2440 x 1220 
Generally lighter than plywood
Cut edges do not need to be resealed
Cuts with standard tools, yet without splinters or breakout
Face repairs are easy and effective
Cost is similar to plywood
At end-of-life boards can be returned to 2K Manufacturing for recycling, thereby avoiding disposal cost
The sustainable solution  
Got a story? Email news@theconstructionindex.co.uk