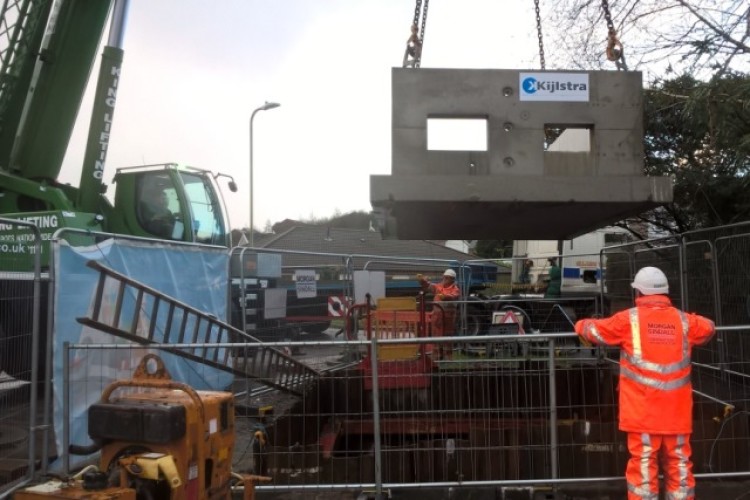 The contractor chose a precast concrete option for the first time over plastic or in-situ concrete options.
The 3.5-metre long, 2-metre wide and 2.1-metre deep precast concrete chamber was installed as part of Morgan Sindall's AMP6 framework contract with Welsh Water.
The works involved installation of the new precast combined sewer overflow (CSO) chamber plus mechanical screen and associate pipelines and manholes. The 17-tonne CSO chamber was manufactured off-site by Kijlstra and installed using a 60-tonne capacity mobile crane from King Lifting.
This was followed by the two-tonne internal weir wall, grouted in place once the chamber had been positioned within its excavation. The CSO riser unit, weighing another seven tonnes, was then lifted into place on top of the base unit.
Preparation works in advance of the chamber's delivery included construction of a 5m x 4m x 3m cofferdam and a concrete blinding slab.
Morgan Sindall site agent Mark Thomas said: "We basically had three options – in-situ concrete, a plastic chamber or precast. Precast was the way forward for a number of reasons."
He said precast reduced risks associated with a traditional in-situ pour, including working at height, steel fixing, manual handling and concrete works. It also saved time on the overall programme, he said, effectively reducing the 12 days required for in-situ concrete to just one day to install the factory-finished product.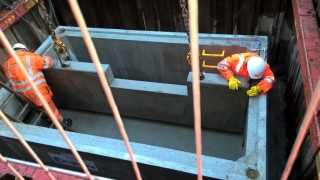 Got a story? Email news@theconstructionindex.co.uk