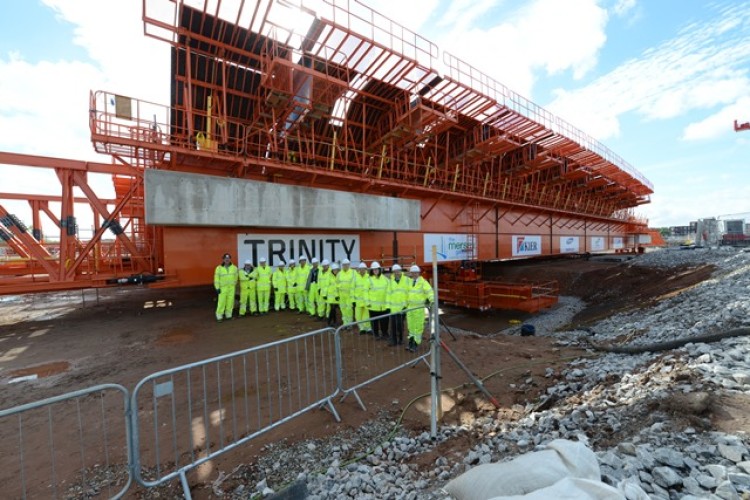 The construction consortium Merseylink has named the movable scaffolding system Trinity.
While most machines of this kind can only build bridge spans of up to 60 metres, the movable scaffolding system (MSS) for the Mersey Gateway Bridge was specially made so it is able to cast spans of up to 70 metres, making it the longest in Europe.
Merseylink held a competition for staff to name the MSS, with the winning name Trinity submitted by Lynn Jeary, who works in the project's communications team. She considered the name to be symbolic of the three bridge pylons and the three partners in the construction joint venture – Kier, Samsung C&T and FCC.
Merseylink operations director Martin Buckley said: "According to engineering tradition, a machine cannot start work until it is given a name, and the name is usually female. The tradition is carried on throughout the world as a sign of good luck for the project ahead."
It has taken construction teams three months to assemble the machine from 1,200 component parts held together by more than 60,000 bolts.
Now fully built, Trinity is 157 metres long and weighs 1,700 tonnes.
Trinity will build the elevated road viaducts over the Mersey Estuary on both sides of the river, beginning with the north approach viaduct from the launch site at Catalyst Trade Park in Widnes.
Pictured below is one of the form travellers in the factory. These will be used to construct the deck of the main bridge.

Got a story? Email news@theconstructionindex.co.uk