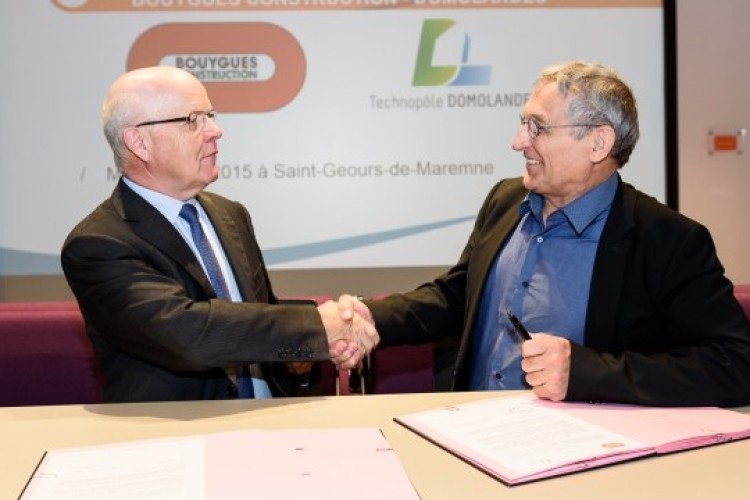 The three-year partnership is aimed at creating an 'ecosystem' that will encourage the exchange of knowledge and the development of innovative and sustainable solutions in building and construction.  
Bouygues Construction and the Domolandes Technopole will pool their investment and research in three areas:
the development and implementation of virtual reality and augmented reality applied to virtual tours and serious games;
the implementation of building information modelling (BIM) by SMEs in the Aquitaine region of France through a series of pilot projects;
the development and implementation of approaches and tools enabling the collaboration of building professionals on different sites.
The agreement also enables Bouygues Construction to make use of the Domolandes ECV (espace construction virtuelle, or virtual construction space). This collective platform, in operation since January this year, is equipped with high-tech systems for virtual design and 3D modelling. Bouygues Construction is joining Domolandes in using it to spread new technologies to SMEs and developing new digital methods and tools in the sector.

Bouygues Construction and Domolandes said that they share a desire to improve information and support for the construction sector with the aim of encouraging the adoption of digital technologies.   
Domolandes is a technopole - or high-tech centre -  jointly launched in 2011 by the Landes and the Maremne Adour Côte-Sud local authorities. It specialises in sustainable construction and digital technology. It is a combination of incubator, business centre and network of companies, and provides a range of support facilities and services to the economic, technical and commercial development of the sector. In order to promote the creation of new enterprise and to foster innovation, the it organises a national competition which attracts more than one hundred entries each year. Bouygues Construction is a member of the panel of experts that judges projects.
Got a story? Email news@theconstructionindex.co.uk