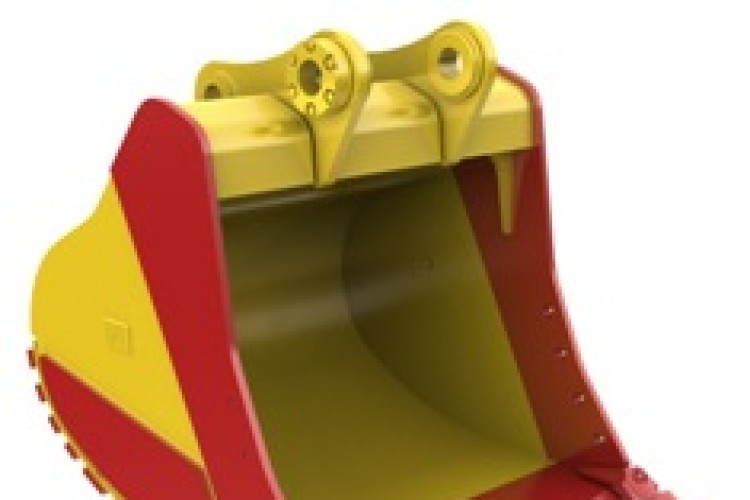 The pin-on and coupler buckets will also in due course be available for the E-series excavators.
Cat's current excavator buckets in Europe are based on four main categories: Excavation (X), Extreme Excavation (EX), Rock (R), and Heavy Duty Rock (HDR) buckets. With the introduction of the 374D and 390D comes a new naming system: General Duty (GD), Heavy Duty (HD), Severe Duty (SD), and Extreme Duty (XD).
The D-Series excavators replace the C-Series in the Caterpillar large hydraulic excavator lineup. With digging forces increasing significantly, the machines have better potential for productivity than their predecessors, Cat says, and the buckets for the D-Series are intended to take advantage of the increased digging performance. Changes include reinforced top box design, upsized GET and increased capacities.
 Improved geometry, for better operator control and smoother loading
The sidebar angle has been lowered - resulting in less resistance to material flow into and around the bucket - resulting in a smoother and faster dig cycle. The lower angle also concentrates the power of the machine across a smaller surface. The tip position has been moved towards the operator. This improves material flow and visibility into the bucket, making it easier for the operator to see the work. Being able to see material flow gives operators the visual clues to load faster and more efficiently, Cat says.
Together, these two geometry improvements offer better material flow and make the buckets more controllable, more comfortable to use, easier to operate, it is claimed.
Four categories to cover every application
Each of the four categories is based on intended bucket durability when used in its recommended application and material. Each bucket durability is available as pin-on, or can be used with a quick coupler. Red areas on bucket images illustrate additional protection against wear as it increases across each category.
General Duty (GD): For digging in low impact, lower abrasion materials such as dirt, loam, and mixed compositions of dirt and fine gravel. The lighter structure decrease load time and increase the weight that can be lifted. It features standard size adapters and tips. The sidebars are pre-drilled for optional side-cutters and sidebar protectors.
Heavy Duty (HD): For a wide range of impact and abrasion conditions including mixed dirt, clay and sand & gravel. The bucket features thicker bottom and side wear plates than the GD bucket, increasing bucket wear life. Sidebars are pre-drilled for optional side cutters and side bar protectors.
Severe Duty (SD): For higher abrasion conditions such as shot rock and sandstone. Features bottom wear plates up to 50% thicker than HD buckets. Side wear plates up to 40% larger than HD buckets. Spade edge with adapters is sized to accommodate higher abrasion conditions while maintaining ease of penetration. Sidebars are predrilled for optional sidebar protectors.
Extreme Duty (XD): For very high abrasion conditions including high quartzite granite. It features Corner (or heel) shrouds, Base edge end protector (BEEPs), base edge segment and liner. Side wear plates are larger and sidebar protection has been added for protection against abrasion and gouging wear. Spade edge with adapters is sized to accommodate higher abrasion conditions.
Got a story? Email news@theconstructionindex.co.uk