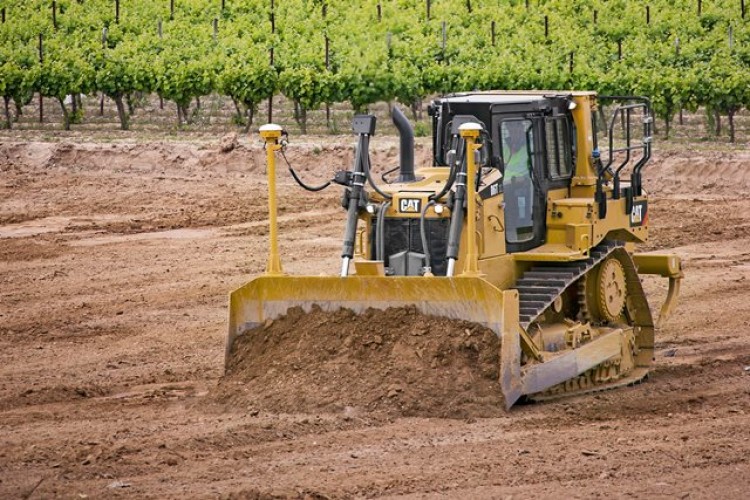 Cat claims that, in heavy work, fuel savings of up to 20% will be seen, rising to 30% savings in light work and finish grading applications.
The new D6T has a fully automatic, four-speed, power-shift transmission with an integral lock-up clutch to provide a significant increase in fuel efficiency. The operator just sets the desired ground speed, and the Auto Shift system chooses the best gear and engine speed to match operating conditions.
The new D6T transmission adds a gear between first and second ranges for smooth shifting and to maintain power to the ground during load changes. The added gear allows the machine to remain in the most efficient mode for a higher percentage of the time, Cat says.

The D6T comes with a range of technologies to choose from, ranging from simple grade indicators to full factory-integrated GPS:
Cat Grade with Slope Assist is a new standard feature for the D6T; it automatically maintains pre-established blade position without the need for added hardware or a GPS signal.
Cat Slope Indicate, also standard, displays machine cross-slope and fore/aft orientation on the primary monitor, assisting operators to work accurately on slopes.
Cat Stable Blade, again standard, complements the operator's blade-control input to achieve finish grades faster with less effort.
Cat Grade with 3D is an available option; a factory-integrated grade-control system that provides three-dimensional guidance both for production dozing and fine grading. The system feature roof-mounted antennas, and the Cat AccuGrade Ready Option is included with the system, as is the AutoCarry system that adjusts the blade for optimum load retention.
Cat AccuGrade is a dealer-installed after-market grade-control option that provides the flexibility to scale system features to changing needs, ranging from lasers for 2D flat-plane and slope work, to systems using the Global Navigation Satellite System (GNSS) or universal total stations for complex contours and precise finish grading.
AccuGrade Ready Option allows the machine owner to upgrade to an AccuGrade 2D or 3D system as requirements demand.
In addition to grade control technologies, the Cat Product Link telematics system integrated into the D6T provides operational data – such as location, hours, fuel usage, productivity, idle time, and diagnostic codes – that is accessed through the online VisionLink interface.
Got a story? Email news@theconstructionindex.co.uk