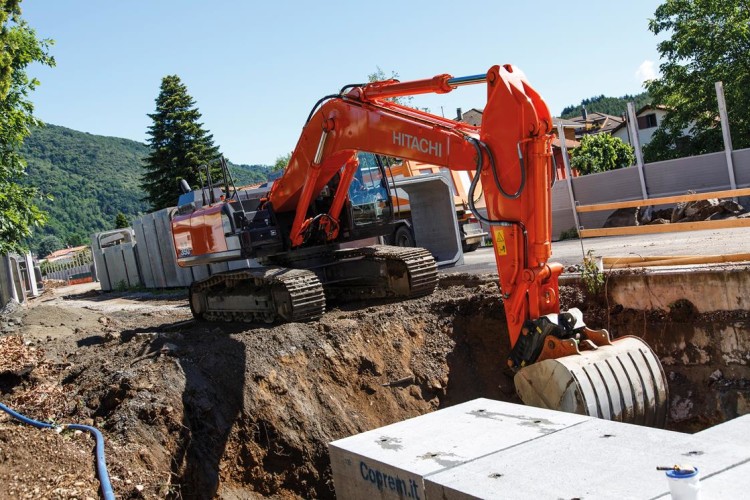 The ZX350LCN-6 is working on the Arcisate-Stabio line, which will connect Varese in the north of Italy with Ticino and Como, via Mendrisio, and ensure passengers can reach Milan's Malpensa Airport from cities in central and southern Switzerland. It is due to be completed by the end of 2017.
The Zaxis-6 model is owned by Mezzanzanica, based in Parabiago near Milan. The company has a fleet of nine Hitachi mini and medium excavators, and wheel loaders, ranging from Zaxis-1, -3 and -5 models, as well as the most recent additions, two ZX350LCN-6s.
On site in Induno Olona, on the outskirts of Varese, the ZX350LCN-6 is being used for the installation of irrigation pipelines stretching a total of 9km underneath the railway line. It is equipped with a quick coupler and standard 2.3m³ bucket and is being used for earthmoving and placing 1t concrete sections into the trench.
Material from the site is used for restoring quarries owned by Italian rail network RFI to their original state.
"Our work requires a high level of precision," says Cristian Mezzanzanica, managing director of Mezzanzanica. "Over the years, we have found Hitachi hydraulics to be superb. This has also increased our productivity as working with high levels of precision means no time is lost."
He added: "We tested the Hitachi ZX350LCN-6 against other leading brands and found it to be extremely fast."
Got a story? Email news@theconstructionindex.co.uk