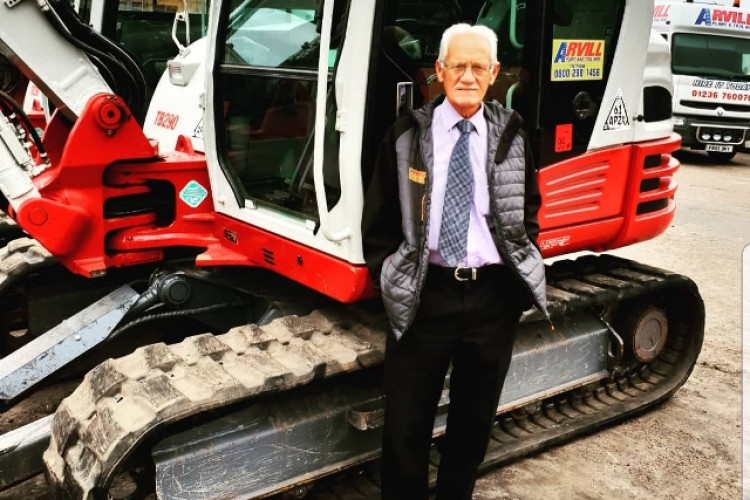 Airdrie-based Arvill Plant & Tool Hire has appointed him as one its sales executives to take advantage of his experience and knowledge.
He is working alongside commercial director Hayley Shevill, who said: "It's great to have a fount of knowledge like Eddie on the team. We have all ages, including a trainee fitter who is just 16. Eddie has certainly brought the average age up by a few years."
And he is bringing in the business, having already secured deals with Fankerton Plant, RJ McLeod, Marshall Plant, CM Steel, Front Line Construction, Advance Construction and Dem-Master.
He said: "At my age and having worked in the sector for so long, I know most of the people in the business and am delighted to bring my connections to a firm which has long set the pace in plant hire across Scotland."
Eddie was persuaded to join Arvill by owner and managing director Arthur Shevill, who founded the company in 1985.

Arthur Shevill said: "The whole team is delighted that Eddie has agreed to come on board. He has an unrivalled track record, he keeps his word, he has an excellent reputation in the industry and he knows how everything works."
Edinburgh-born Eddie, who now lives in Bathgate, left school in 1955 and went straight to work in the oil shale mines. He said: "These pits were all extracted by shovel. There was no machinery. It was hard, hard work."
As well as the shale mines, he worked in construction on motorway projects including the M8, the M73 and the M74. He also gained a heavy goods licence and travelled the country as a lorry driver.
He entered plant hire in 1962 with Fidelity of Airdrie, where he spent 26 years. He also worked with Nixon Hire. 
Got a story? Email news@theconstructionindex.co.uk