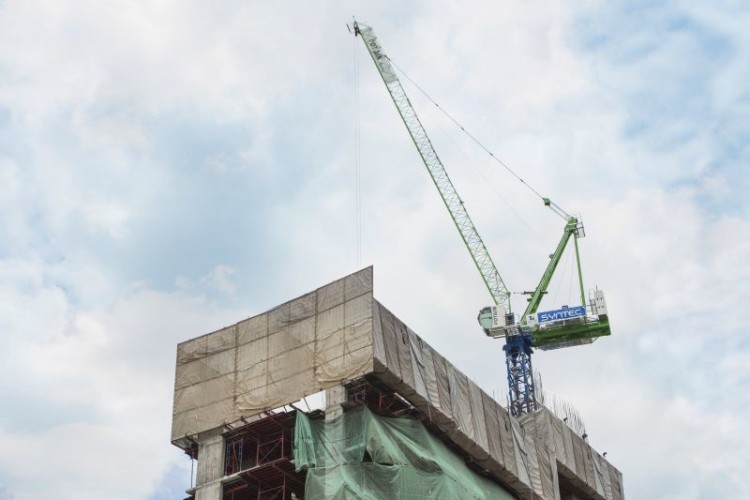 The new model, which was launched in July, fitted the contractor's requirements for a crane that could be placed easily inside buildings during construction and that also has a small footprint. The crane can be configured on either 2m mast sections or narrower 1.6m sections, depending on site needs.
The company has installed the crane on its first job, the 130m-tall Rhythm Sukhumvit 36-28 residential development in Bangkok. Syntec Construction is the main contractor on the job, which is being built for AP (Thailand).  The crane was installed at an initial 36.7m height and with a 45m jib but it will be climbed to 140m by the project's end in July 2016.
"The lift shafts in the buildings are small and difficult to access, so we needed a reliable crane that could perform at a reliable rate," said Nayot Pisantanakul, assistant managing director for Syntec Construction. "After investing in the Potain MCR 160, we're working faster and more efficiently than ever before, and this will ensure we get the job completed at a much lower cost."
Placing tower cranes inside tall buildings is becoming an increasingly popular construction method, especially in Asia, according to manufacturer Manitowoc. When the tower crane is positioned centrally inside the building (usually inside the lift shaft) it can access the entire area of the project more easily. A further advantage is that this configuration means the crane does not need to take up space outside the building, which is particularly useful on congested downtown sites. Cranes erected outside the building also have to reach further, meaning a much larger model with a longer jib is required. This increases costs and set-up times for the contractor.

The MCR 160 can lift a maximum of 10t and can be rigged with up to 50m of jib. It offers a 2.4t jib-end capacity and can be equipped with Potain's Vision cab, which offers excellent all-round visibility and an ergonomic design.
S B Siam, Manitowoc's Thailand-based Potain dealer, sold the crane to Syntec Construction and was involved in the commissioning and erection of the crane. Syntec Construction will also add a second MCR 160 to its equipment fleet, with the new model due for delivery this month. It will join several Potain MCR 225 cranes, which the company purchased previously.
The Rhythm Sukhumvit 36-28 residential project is due for completion by early 2017.
Got a story? Email news@theconstructionindex.co.uk