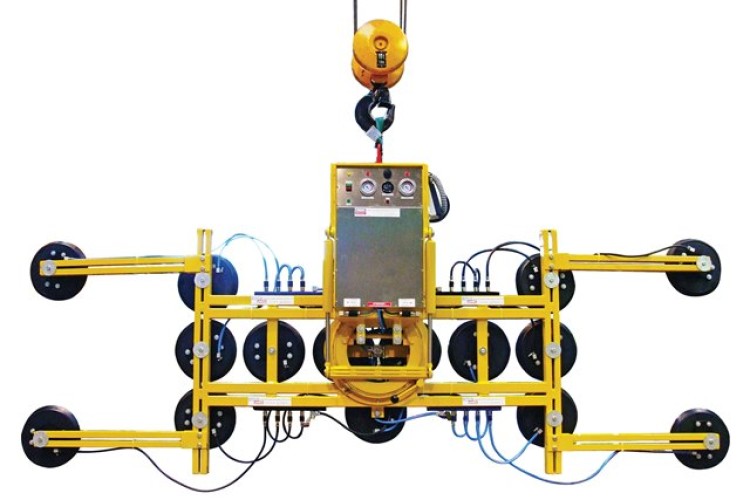 GGR now has more than 30 different types of glass lifting machines for hire and sale.
The Hydraulica lifter series has been used on variety of glazing jobs, such as lifting heavily laminated glass to create a viewing gallery for Edinburgh Zoo's panda enclosure and installing glazing to Sheikh Khalifa's swimming pool at his palace in the UAE.
The new 1000kg Hydraulica 1000-B has a new pump design that GGR says provides more power and quicker suction than the previous 1000-A version.
And the addition of dual ram hydraulic cylinders improves control of the load and makes movement smoother, it is claimed. The improved lifter is able to position loads with seamless motion in its 90° hydraulically powered tilt and 270° manual lockable rotation functions.
The new dual circuit Hydraulica 1000-B also has an optional radio remote control, a redesigned lifting frame and redesigned enclosed control panel.  With the vacuum gauges clearly visible on the front of the lifter, the control panel cover offers some extra protection to the vacuum system, making it easier to maintain, GGR says. 

There are also new 1200kg and 2000kg capacity lifters in this range, the Hydraulica 1200-B and 2000-B. The Hydraulica 1200-B model was recently used to fit canopy glass to Beetham Tower, home to Manchester's Hilton Hotel (pictured below).
Both lifters benefit from remodelled lifting frames which include removable extension arms for handling glass loads of various shapes and sizes. The 1200-B includes four removable frame extensions while pads on the 2000-B lifter can be adjusted.
GGR has also added the Hydraulica 900C curved glass lifter to its expansive lifter selection. With the same 90° powered tilt function as the other Hydraulica models, this 900kg glass lifter has 30 flexible suction cups set across two swivel arms to attach to convex or concave surfaces.
Got a story? Email news@theconstructionindex.co.uk