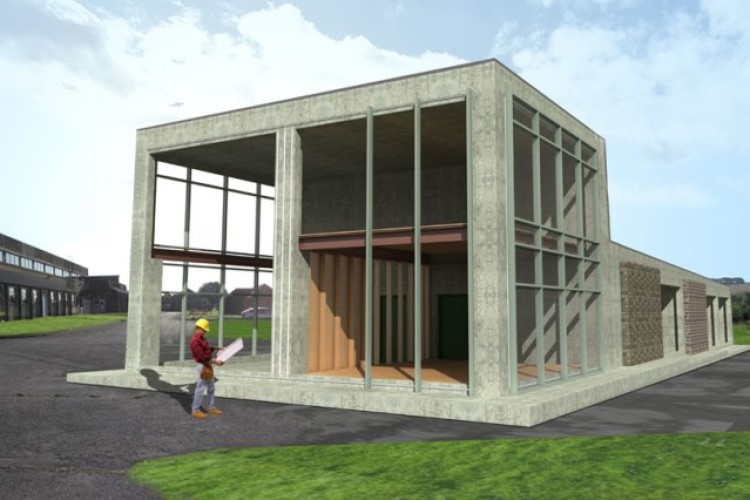 Called the Hive, it is based at the university's Building Research Park, Swindon. It is backed by the Building Research Establishment (BRE) and the Engineering & Physical Sciences Research Council (EPSRC).
Research planned at the Building Research Park will analyse the environmental impact of construction materials in the future – including their energy efficiency, flood resilience, structural capability and internal air quality.
The building has eight individual cells that are constructed to be insulated from each other, each with a single face left exposed to the external environment. The faces are used to install walls made from a range of materials and construction systems. Performance of these walls is evaluated in real life conditions to create a more accurate picture of environmental performance than the U-value assessments currently used in building regulations.
Bath University pro-vice-chancellor Jane Millar said: "The Hive is a pioneering site that will allow industry to develop future energy-efficient construction materials and systems faster, while strengthening the research capabilities of our BRE Centre for Innovative Construction Materials."
BRE chief executive Dr Peter Bonfield said:  "This new facility will foster the innovation solutions for the benefit of the UK and other countries around the world. I have no doubt that the Hive will become a national asset, an exemplar of world class Britain: forward looking, forward thinking  and leading the charge for better more sustainable and resilient construction in the UK and worldwide. "
Dr Mike Lawrence, director of the Building Research Park, said: "Finding new, sustainable methods of construction – properly tested in a real building such as the Hive – is essential if the UK is to lead the way in low carbon homes and meet challenging emissions targets."
The Hive's test cells
Hygrothermal cells


The term 'hygrothermal' refers to the transmission of heat and moisture through buildings. The Hive offers the facility to test out façades to prove the construction efficiency of materials under real weather scenarios. Not only can energy efficiencies of materials be tested, but also air tightness and acoustic efficiency can be investigated.
Double-storey cell
At the Hive there is the ability to look at the multi-level aspect of façade efficiency with the ability to create different internal scenarios such as internal walls and floors. The double-storey cell also offers a strong roof capable of load testing large panels and floors.
Bladder cell
For small panels, uniformly distributed load (UDL) testing can be achieved, testing the impacts of windloading and retainment scenarios.
Flood cell
The Hive offers a flood tank that can be used to flood test façades and construction materials with water up to a metre in height.  This can help to analyse the performance of the construction before, during and after flooding, providing vital information on construction materials in the flood plain.
Got a story? Email news@theconstructionindex.co.uk