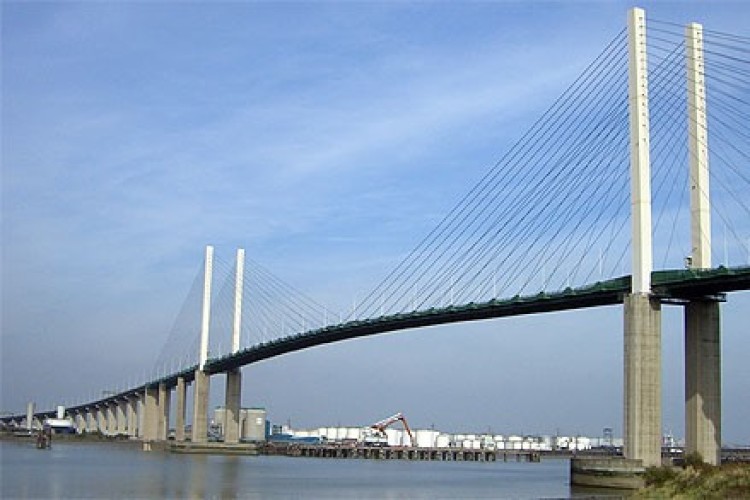 The House of Commons transport committee has published a report calling for better planning of bridges and tunnels across rivers and estuaries. In particular, it says that new river crossings in east London, discussed for more than 20 years, are 'long overdue'.
Warning that there has not been sufficient leadership to see plans through to construction, the committee calls on the government to work with the Greater London Authority (GLA) to establish a special purpose company to deliver the crossings.
The Department for Transport (DfT) has been considering proposals for new crossing in east London to relieve the Blackwall Tunnels as well as two options for a new Lower Thames Crossing: the first would see a bridge run alongside the existing A282 Dartford-Thurrock crossing; the second would connect the M2 with the A13 and the M25 between junctions 29 and 30.
Committee chair Louise Ellman MP said: "Time and time again a clear need for new river crossings has been identified in east London, but a lack of political leadership has seen plans shelved repeatedly. Without new crossings congestion will continue to get worse and the area will never realise its full potential. To solve that problem, the government and GLA must work together as a matter of priority to establish a special purpose company with the sole objective to deliver a package of crossings east of Tower Bridge."
She added: "The Dartford Crossing is the least reliable section of the strategic road network. The DfT's own figures show that the congestion delays at this pinch point cost the economy £15m every year. Yet ministers have done little over the past five years to build the kind of consensus between local authorities that is required in order to reconcile national transport objectives and respect local concerns. Worse, they have now said no final decision will be taken until as late as 2016."

Civil engineering contractors backed the report. Alasdair Reisner, chief executive of the Civil Engineering Contractors Association (CECA), said: "We hope that a new government will act quickly to get projects moving, supporting growth in the Thames Gateway, which will in turn support new housing to address the capital's homes crisis.
"The development of infrastructure in the UK has, historically, lacked a long term strategy, and large projects have taken too long to develop and build. That's why CECA has campaigned for an independent commission for infrastructure, established with cross-party support, to analyse the strategic opportunities facing the UK, facilitate private sector investment, and deliver the infrastructure that the UK will rely upon in years to come."
The Freight Transport Association (FTA) also agreed that better planning was needed. "All too often we seek to just unblock the congestion we currently have rather than considering the long-term needs of the country, said Malcolm Bingham, FTA's head of goad network policy. "We fail to plan adequately for future development and growth and this lack of action is constraining the competitiveness of the UK."
FTA has stated that while free-flow charging at Dartford has undoubtedly improved current congestion problems, Department for Transport modeling anticipates that by 2020 north-bound congestion will be back to pre Dart-Charge levels. The FTA said that even if a decision is made today on a new Lower Thames Crossing to increase capacity, congestion will get worse before it gets better.
Got a story? Email news@theconstructionindex.co.uk