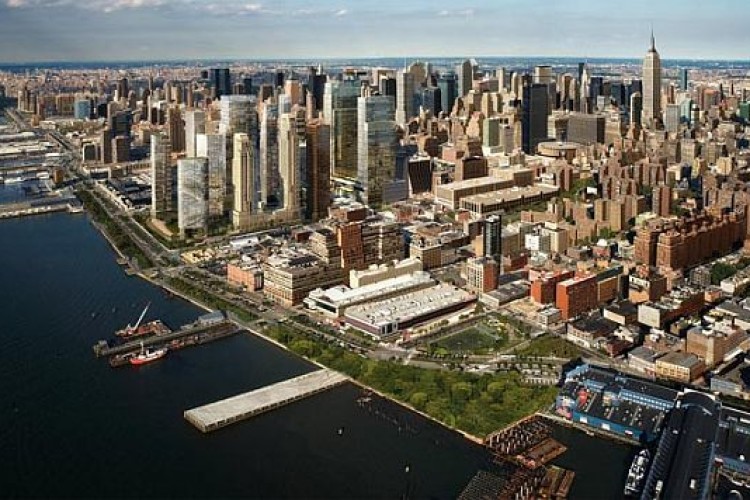 During Hurricane Sandy, the 103-year-old Hudson River Tunnels flooded for first time ever, shutting down northeast corridor and highlighting urgent need for flood-resistant infrastructure. According to engineers, the only option for additional rail access to Manhattan and Penn Station is under Hudson Yards.
Infrastructure needs to be built soon to safeguard the route as it was in danger of being lost as development taking place in the area could have blocked the alignment.
The funds will go towards an 800-foot long concrete casement, or tunnel box, that will preserve the right-of-way for the two new flood-resistant tunnels into Manhattan's Penn Station.
The new concrete casement will be built at the same time as the Hudson Yards development project currently being constructed by Related Companies and Oxford Properties Group. Without funding, the construction of the project could have proceeded without the casing, and the opportunity to build the new tunnels serving Penn Station's existing tracks would have been potentially lost forever.

US senators Charles Schumer and Frank Lautenberg joined US transportation secretary Ray LaHood in announcing that that Department of Transportation has begun the process of fulfilling Amtrak's request for US$185m in Hurricane Sandy Relief funding. 
"When Sandy flooded our tunnels it exposed a fatal flaw in our already maxed-out transit infrastructure and demonstrated beyond a doubt we needed a new flood-resistant train-tunnel into and out of Manhattan," said Schumer.
"Hurricane Sandy exposed the risks of relying solely on a system of century-old tunnels for rail access into New York City," said LaHood. "We were fortunate that these tunnels were not destroyed during the hurricane, and providing Amtrak with funds to preserve its ability to build a second tunnel will provide much-needed resiliency to the Northeast Corridor in case of future disasters."
"The Gateway Tunnel is the most important transportation project in our region, and this federal funding clears a hurdle that threatened the possibility of a new rail tunnel under the Hudson River," said Lautenberg. "Gateway will create thousands of jobs, drive economic growth, and help us meet the urgent needs of a growing population that demands more, reliable rail options."
Got a story? Email news@theconstructionindex.co.uk