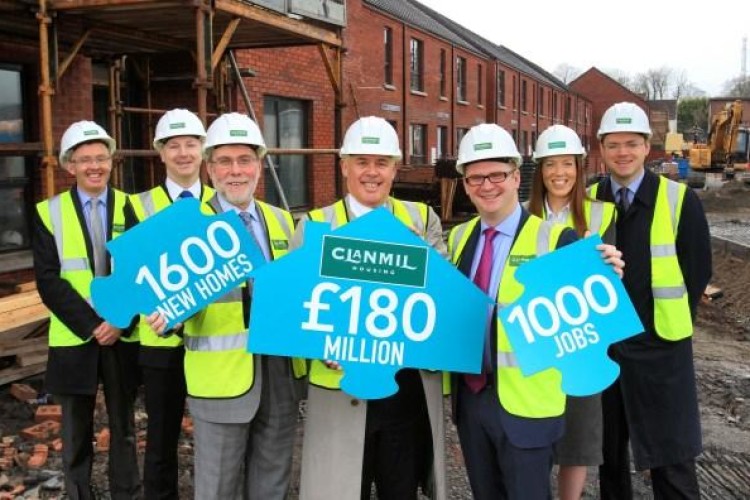 The investment is expected to generate almost 600 construction jobs over four-years and support more than 400 associated jobs in the supply chain.
The deal, the largest-ever of its kind in Northern Ireland, secures loans of £75m from Danske Bank and £45m from Barclays. Some £100m of this finance will be invested in building new social homes and the remainder used to refinance existing loan facilities.
The funding will also enable Clanmil to access up to £80m in statutory funding from the Department for Social Development and kick-start construction of 1,600 social homes that will house up to 5,000 people.

Steve Amos, chair of Clanmil Housing, said: "This is really good news in a tough lending market. Faced with growing demand for social housing and increasing constraints on statutory funding, our challenge is to find new funding sources that will support continued investment in social housing and make the available public money go further."
Social development minister Nelson McCausland said: "This funding will help provide an additional 1,600 social homes throughout Northern Ireland and will be welcomed by prospective tenants and the building industry. The next three years of the Social Housing Development Programme will see housing associations significantly step up output to deliver 2,000 new homes each year. Clanmil will play a key role in achieving these targets and this £120 million loan will be invaluable in partnering match funding from my Department to allow these ambitious targets to be met."
Finance minister Simon Hamilton said: "The financial package announced today demonstrates a growing confidence in an economy where banks are prepared to invest in sound projects such as the planned housing schemes. It is good news for those in need of housing, good news for jobs and good news for the construction sector."
Got a story? Email news@theconstructionindex.co.uk