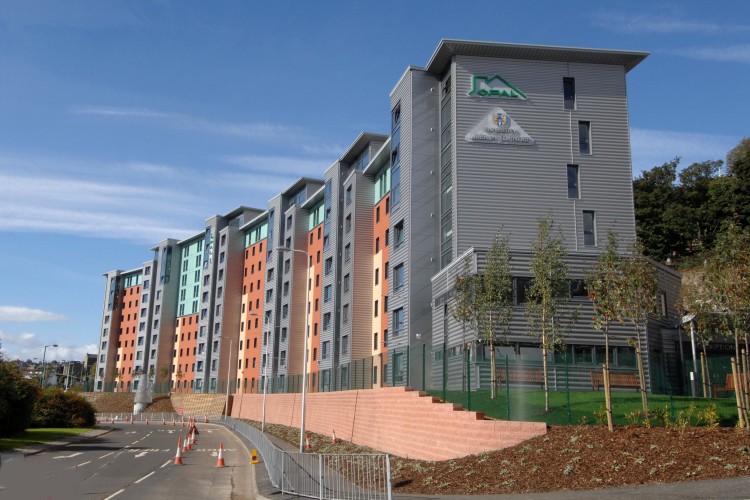 Opal 1 Dundee is not only fully-let for 2010-11 but developer and owner, Opal Property Group, even has a substantial waiting list! The project is the first to be completed by Ocon in Scotland and is the latest in an impressive portfolio of student accommodation schemes, which includes current projects in Exeter, Loughborough and Sussex.
Managing Director of Ocon, Andy Barker and chairman and Managing Director of Opal Property Group, Stuart Wall, were joined at the development by Principal and Vice Chancellor of the University of Abertay Dundee, Professor Bernard King CBE, and former World Champion long distance runner, Liz McColgan MBE, to celebrate the official completion of Opal 1 Dundee on Friday 17th September.  An Olympic silver medallist, Commonwealth champion and winner of Tokyo, London and New York Marathons, Liz is a native of Dundee and was delighted to be given the honour of unveiling a plaque at the new student accommodation scheme to commemorate its official completion.
Liz commented: "This area of Dundee was at the centre of the city's industrial past as a textile centre and with this new student accommodation development it will also be at the centre of the city's future, providing a home for students based in the city as they take their first steps towards careers in the digital and creative industries."
Constructed on the site of former jute industry workers' tenements, Opal 1 Dundee is Opal Property Group's first development in Scotland, although the group has over 25 years experience in the industry, owning and operating 20,000 student bedrooms in 16 UK cities and was the winner of the 2009 National Student Housing Survey Best Private Halls Provider Award.  Opal 1 Dundee provides a high standard of en-suite student accommodation and will also be used as conference delegate accommodation outside of term time.  Abertay has taken a nominations agreement for 260 bedrooms for first year students and the remaining rooms were marketed by Opal to students of both of Dundee's Universities and Dundee College.  Ocon leveraged its expertise in student accommodation schemes to complete the development to exceptional quality standards within a tight time frame, erecting a pre-cast concrete frame and using pre-fabricated bathroom pods, with curtain walling, terracotta and aluminium cladding to complete the striking, contemporary building.

Commented Stuart Wall: "Once again, Ocon has delivered a superb scheme for Opal and we are pleased to have brought the winning Opal/Ocon formula for quality, affordable student accommodation to Dundee, Opal's first development in Scotland.  Thanks to Ocon's expert project management, we were able to market the building to potential residents using the show flat and it has also caused quite a stir on social networking sites such as Facebook, enabling us to achieve 100% occupancy at opening and generate enquiries from Abertay, Dundee University, Dundee College and even University of St Andrews students! We wish all the new residents well in their new home."
Professor King said: "This new student accommodation scheme marks a key strategic staging post in Abertay's development and demonstrates our commitment to offering quality to our students in everything we do.  I would like to thank Opal and Ocon for working in partnership with us to deliver that commitment and I am sure that Opal 1 Dundee will continue to be a valuable addition to our facilities for years to come."
Andy Barker added: "This project completion marks a first for Ocon 'north of the border' but we anticipate that it will be the first of many as we continue to expand both geographically and across the sectors in which we operate.  We are delighted that the scheme has met with such a positive response from the developer, the university and the students and look forward to re-visiting Dundee in the future." 
Got a story? Email news@theconstructionindex.co.uk