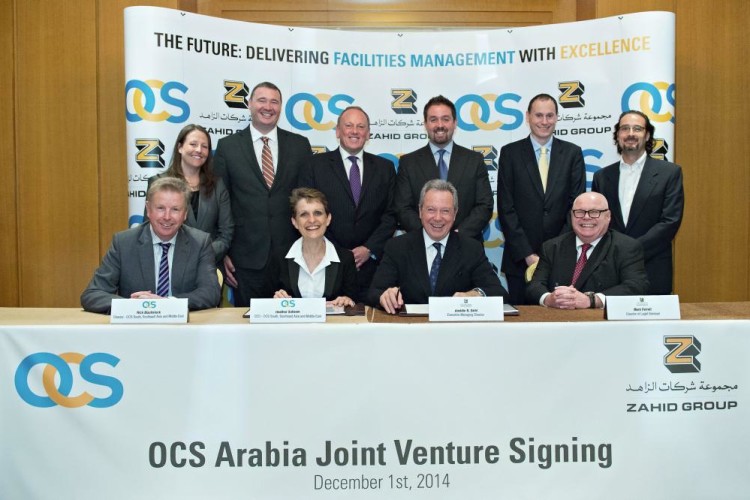 The new OCS Arabia venture will be based in King Abdullah Economic City, a new port facility and development zone in Saudi Arabia. The joint venture is designed to complement OCS's existing operations in the Middle East, which were launched in May 2012, with the signing of a joint venture with Qatar's Tadmur Holding. The Qatar deal was followed by a joint venture in the United Arab Emirates, with the family-owned United Technical Services in May 2014.
"Zahid Group is a long-established, highly–regarded and reputed business with a successful track record serving a diverse customer base in Saudi Arabia," said said Chris Cracknell, chief executive officer of OCS Group. "By combining Zahid Group's and OCS's local knowledge, regional and international expertise in exemplar delivery of top quality facilities services, the joint venture is well-positioned to offer clients a suite of world-class solutions to their property management needs."
Cracknell said that OCS is already experiencing "tremendous growth" in the Middle East. "Saudi Arabia is an economic powerhouse with growth in gross domestic product (GDP) running at over 5% a year with significant capacity for future infrastructure spending," he added.

Both OCS Group and Zahid Group are family-owned businesses, which can trace their roots back to over 100 years. Both parties said that their common heritage as family-owned businesses means they share many of the same values, including a commitment to serving clients over the long term,  investing in staff development and contributing to the communities in which they operate.
"Our joint venture with OCS Group is in line with Zahid Group's ongoing strategy to develop partnerships with leading global organizations in promising sectors with sustainable business models that add value to the economies we participate in," said Zayd M Zahid, director investments of Zahid Group Holding. "Given the complementary nature of the partners and OCS' established track record in the field of total facilities management I am confident that OCS Arabia will quickly become the Saudi benchmark for facilities management solutions across a broad range of sectors and asset types."
Got a story? Email news@theconstructionindex.co.uk