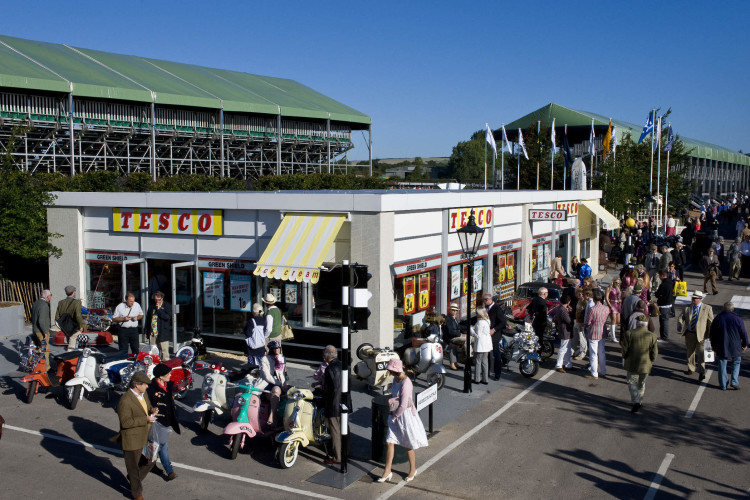 A typical 1960s street scene was created for the event, which included a period car park, bus depot and a fully trading Tesco supermarket.  Inside, visitors to the Revival were able to buy some of their favourite products from the era, some complete with heritage packaging. 
Using concepts produced by retail design consultants CDW & Partners and working closely with Tesco, Yorkon successfully re-created a store from 1966 which was completed in just seven weeks, from receipt of order to handover at the Goodwood Circuit in Sussex. 
Features of the retro store included a stone-effect fascia with four white mosaic columns reminiscent of a 1960s precinct, anodised aluminium glazing, an ice cream hatch with a canvas canopy, period fridges, signage from the era, a pebbledash-type finish to the end and rear walls, and separate entry and exit doors.  
The 1,700sqft supermarket comprised six steel-framed modules which were manufactured off site at the Yorkon production centre in York and pre-fitted out with partitions, back-of-house facilities, electrics, chequerboard vinyl tile flooring, and other themed internal finishes, before being delivered to Goodwood and craned into position in just one day. 
James Tutte, Store Development Manager at Tesco, said, "This has been a fantastic project from start to finish, and the Yorkon team really pulled out all the stops to make it happen.  It was a challenging project given the very tight programme but Yorkon performed extremely well both in terms of the quality of the finished store and the way it was delivered." 
Commenting on the design, Ralph Scott of CDW & Partners, said, "Our challenge was to pick out the essence of retailing in the 1960s – and also to reflect a vision of that period that we would all recognise.  We sourced materials and finishes for the store, and developed a visual style that would inject a sense of humour to the project.  Signs had the appearance of handwritten posters and many products are stacked.  The finished effect and how our vision was realised were really excellent."
David Johnson, Director and General Manager of Yorkon added, "We were delighted to work with Tesco on such a visionary and ambitious project.  This store had a completely bespoke design, which successfully demonstrates the flexibility of off-site construction and how we can push the boundaries. And to deliver the scheme in such a short timeframe was a tremendous achievement and a credit to everyone involved."
The retro store will be re-used for the Goodwood Revival for the next two years.
Yorkon is the market leader in off-site construction solutions for the retail sector and has worked with Tesco for the past 10 years delivering more than 170 modular building projects – from convenience and petrol filling station stores in the UK and Ireland, to 10,000sqft interim supermarkets and a 20,000sqft eco-store.
Got a story? Email news@theconstructionindex.co.uk