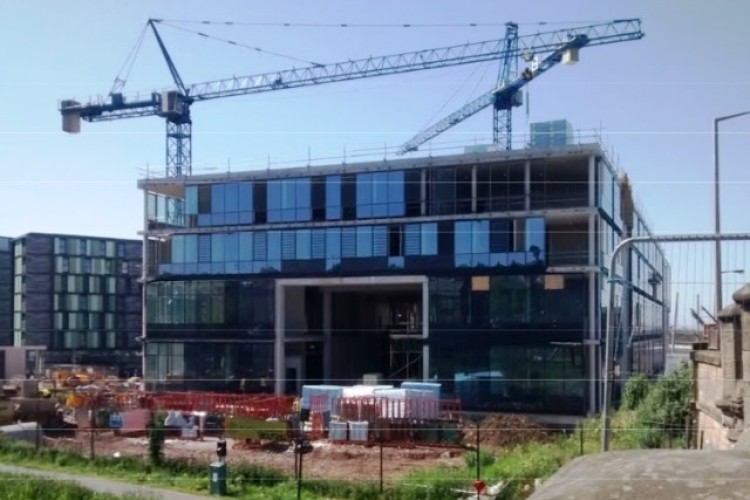 Main contractor O'Hare & McGovern started work on site in Fountainbridge in November 2014 under a £26.3m contract. It originally agreed to hand over the building in August 2016. However, not only did they miss the start of the 2016/17 school year, they are now going to miss the start of the 2017/18 year.
Delays have variously been attributed to foundations problems and the weather.
The new Boroughmuir High School is designed to accommodate 1,165 pupils and features Scotland's first rooftop sports pitch.
O'Hare & McGovern had most recently been working to a handover date of 16th June 2017 but has now told Edinburgh City Council, its client, that it cannot make it. It has proposed a new date of 11th August – six days before the start of the new school year.
However, the council thinks it would be too much of a rush and is postponing the opening until the January 2018 term.
In a statement, the council said: "While O'Hare & McGovern consider that the school could still be occupied for the start of the new school year, the council consider that, given that is only six days later, on 17th August, it is in the school community's best interests not to rush the completion by targeting a date so close to the new school year.  The health and safety of our pupils and staff is the council's highest priority and following a review of progress on site and the new works programme that has been put forward by the contractor the opening will be postponed to January 2018."

It added: "It is considered that by postponing the opening until after the Christmas holidays, sufficient time can be taken to get the new school ready and ensure a smooth transition from the old to new building.  This also provides some time before the move for orientation visits to take place."
Councillor Cammy Day, education convener, said: "I am extremely frustrated that once again we have been badly let down by our contractors.  This new delay will be deeply disappointing for staff, pupils and parents alike.  While this is not a situation any of us would choose to be in we must ensure we put the children's interests first and foremost. "
Councillor Cathy Fullerton, education vice convener, added: "The council undertook an independent review of the contractors' programme prior to the announcement of this most recent delay.  In the circumstances I believe postponing the opening until January is the right thing to do. We will continue to monitor the works on site rigorously and ensure everyone with an interest in the school is kept up to date."
The council has previously said that it will be seeking compensation from the contractors in line with the terms of the contract.
O'Hare & McGovern won the job 80% on cost and 20% on quality.
Got a story? Email news@theconstructionindex.co.uk