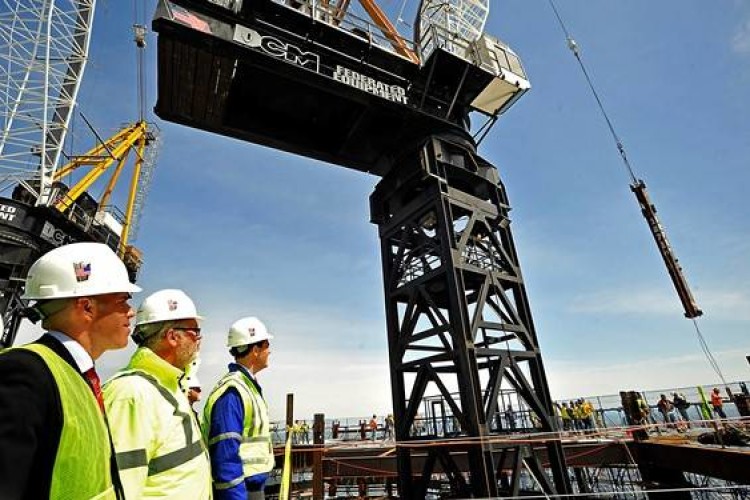 Installation of steel interior columns brings One World Trade Center 387.4m above street level.
Ironworkers installed two, 7.9m steel interior columns on the top of the skyscraper just after 2pm yesterday, officially making One World Trade Center the tallest structure in New York. Those in attendance included representatives from The Durst Organization, Tishman Construction, Cushman & Wakefield, and Skidmore, Owings & Merrill, as well as 9/11 family members.
When One World Trade Center is completed, it will rise to 541m to the top of its antenna, making it the tallest building in the western hemisphere. The EU's tallest building, London's Shard, reached its final 310m height last month.
To bring One Trade Center to its present height, construction workers, have installed 37,000 tons of steel and 145,000m3 of concrete. The building will contain 1 million square feet of glass facade, enough to cover 20 American football fields.

"Today's achievement is just one of many great feats – such as the George Washington Bridge and the Lincoln Tunnel – the Port Authority has delivered in its 91-year history," said Port Authority Chairman David Samson. "We could not have reached this milestone without the hard work and dedication of the many men and women who tirelessly work to rebuild this monumental site. This project is much more than steel and concrete, it is a symbol of success for the nation."
"As the builder of the original Twin Towers, everyone at Tishman is excited today for One World Trade Center to claim its rightful place as the highest structure in the New York skyline," said Daniel Tishman, Chairman of Tishman Construction, an Aecom company. "This magnificent building is not only a symbol of the resurgence and resilience of Lower Manhattan and New York City to the world, it's a demonstration of commitment and leadership by the Port Authority, and the tremendous hard work and dedication of our team, our fellow contractors and the thousands of laborers who show up here every day. I want to thank them all."
"It is fitting that the World Trade Center once again is the tallest building in Manhattan," said David Childs, the architect who led the design team for Skidmore, Owings & Merrill. "Today, Lower Manhattan officially reclaims its place in the skyline and One World Trade Center proudly demonstrates the resilience of America in the wake of 9/11."
Steel will continue to be erected until the building reaches its 104th floor and tops out this summer. 
Got a story? Email news@theconstructionindex.co.uk